MEN: THE MODERN DIET CONTAINS NONE OF NATURE'S MOST VITAL TESTOSTERONE-BOOSTING NUTRIENTS
BOOST LIBIDO, INCREASE ENERGY, AND END STRUGGLES YOUR CUTTING FAT OR BUILDING MUSCLE IN JUST SECONDS A DAY.
A GROUNDBREAKING NEW FORMULA HAS BROKEN THE CODE ON YOUR PERFORMANCE BY INCREASING YOUR MOST IMPORTANT MALE HORMONE BY 540%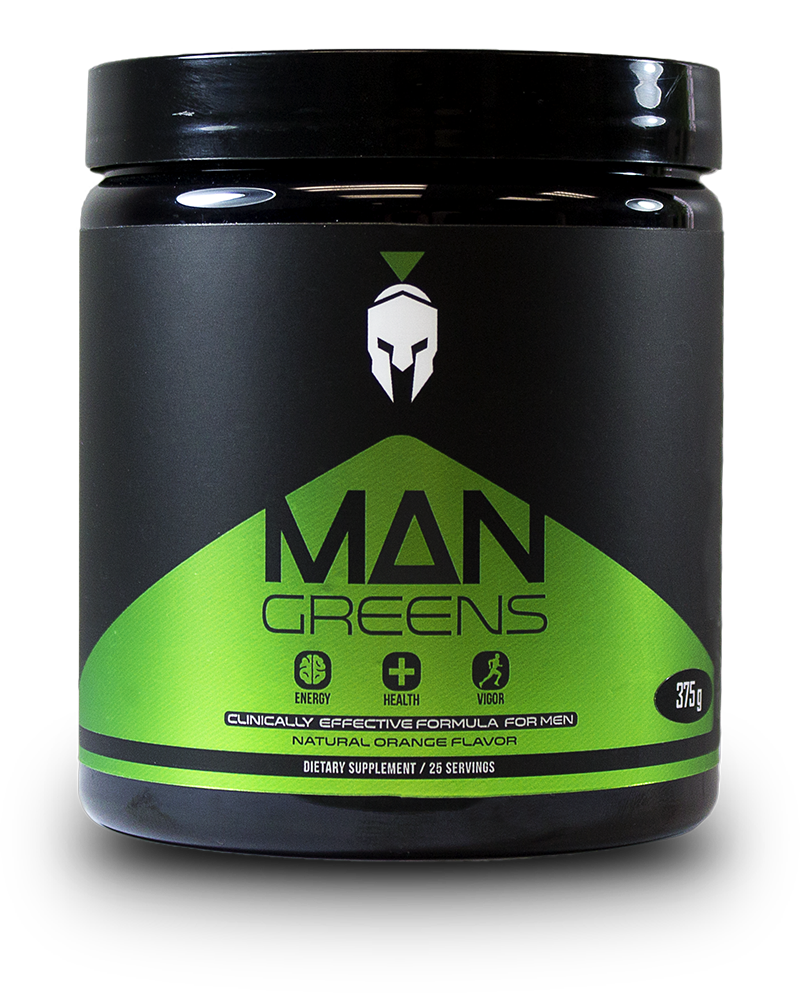 You can have more energy, libido, drive, and muscle, and it can be easier than flicking on a switch. Because of the MAN GREENS male performance formula you'll maximize your performance in under 6-seconds.
FOR REASONS BEYOND YOUR CONTROL, MEN ARE PRODUCING LESS TESTOSTERONE EVERY YEAR, WITH NO END TO THIS EPIDEMIC IN SIGHT.
Our world is literally degrading men. New scientific research is showing its scary side effects that no man seems to be able to avoid completely, are you experiencing ANY of the following?
Adopting feminine characteristics
Increased body fat and obesity
Reduced aggression (a more passive male)
Risk aversion (bad for business men)
Lack of financial success
Or, maybe you're just not performing like you want to, like you deserve to be, either in the gym, in the boardroom, or in the bedroom?
That's right in line with the latest research that shows that men are fatter than ever before, with lower libido along with declining testosterone.
We're not getting enough of the right nutrients, our society increases our cortisol and estrogen levels, and we're struggling to stay healthy and optimal. What man wants to merely survive when we can THRIVE?
UNLESS YOU'RE WILLING TO LIVE IN A CABIN IN THE WOODS, HUNTING AND GATHERING, SURROUNDING YOURSELF WITH..
NO CHEMICALS, SOAPS, PLASTICS, CELL PHONES, OR RADIATION OF ANY KIND…
YOU'RE GOING TO GREATLY BENEFIT FROM THE FIRST SUPPLEMENT PROVEN TO INCREASE TESTOSTERONE AND IMPROVE HEALTH AND ENERGY BY USING VITAL INGREDIENTS FOREIGN TO THE MODERN DIET.
WHAT DO MEN DO TO BOOST TESTOSTERONE, ENERGY, AND IMPROVE HEALTH?
I know you're a busy guy, a driven guy, so that's exactly who I'm talking to.
When we aren't performing at our best we try to fix our diet, increase and improve our training, and supplement because diet and training don't seem to be giving us the boost we need – and I'll tell you right now, diet and exercise alone won't help you thrive.
You simply can't get enough of the nutrients and rare ingredients you need in your diet, and training – no matter the workout – won't give you optimal hormones.
So, you supplement, typically with a greens supplement or a testosterone booster… But there's one, glaring problem!
THE 3 MAJOR INGREDIENTS IN TESTOSTERONE BOOSTERS DO NOTHING FOR YOUR TESTOSTERONE LEVELS, AND…
99.9% OF GREENS SUPPLEMENTS INCREASE MEN'S ESTROGEN LEVELS
FIRST, THE PROBLEM WITH TAKING 99% OF GREENS SUPPLEMENTS…
An ambitious man like yourself is always on the move, the faster you can get high-quality vitamins and minerals from natural sources rather than synthetic sources, the better, making a greens supplement perfect for your busy lifestyle (in theory).
So, yes, greens are great, but:
99% most greens powders lower testosterone levels.
Most greens powders claim to do things that they cannot do (as in, you cannot actually do what they claim to do with food, in general, so no matter how good the greens powder is, it can't deliver on its claims – usually claims that get you to buy their product)
On top of that, most greens powders use 'industry secrets' to appear to have the right ingredients, but don't, and they can 'legally' do this.
Finally, and this is what most greens supplements do, they put a lot of nothing into their product just so they can use it in their marketing.
WHY THE RIGHT GREENS POWDER
IS BETTER THAN JUST EATING MORE GREENS
Like any supplement, a greens product shouldn't replace your consumption of fruits and vegetables, just like a protein powder shouldn't replace your consumption of high quality, whole food protein sources.
A greens supplement, if done right, however, will give you a variety in nutrients that you just can't get from whole foods, for one, because they're expensive, second, many of them just taste horrible.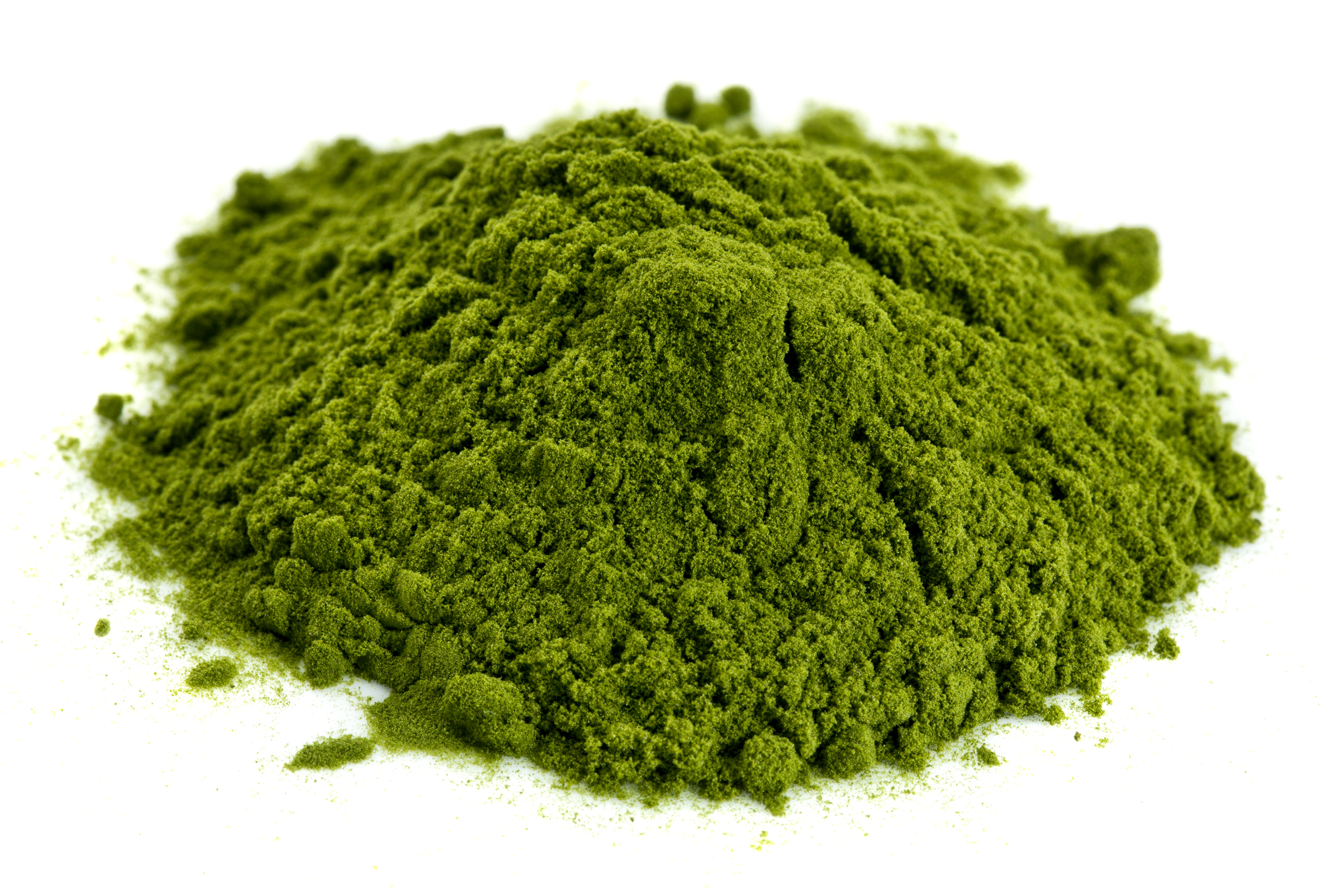 For years I've relied on greens supplements to give me nutrients (like sulforaphane and anthocyanins) that helped me stay healthy and energetic.
As a man I'm always on the go, in the gym, in the office, constantly moving, and with my business depending on me I cannot afford to be sick. And rather than depending on synthetic nutrients from multivitamins, I relied heavily on the nutrient-dense greens powders.
I couldn't get enough variety of fruits and vegetables and herbs in my diet, nor did I have time to constantly be grocery shopping and preparing nutritionally dense meals, so greens fit perfectly into my schedule.
If you don't know who I am, my name is Chad Howse, and I'm the best-selling author of the Man Diet, a book that delves deep into how men should eat to naturally increase their testosterone levels.
Writing that book was a process that took almost 3 years. It's backed by 91 studies on what actually improves testosterone levels in men, and what makes them decline. Since discovering my own testosterone levels were less than optimal almost a decade ago I've been on a crusade to fix my own broken hormones (which I've done successfully), and help 1 million men do the same.
It was in doing research for that best-selling book, however, that I really discovered the lies of the fitness industry, and especially greens supplements.
When I began to learn more about which ingredients increase estrogen levels in men, for example, I discovered that 99% of greens powders on the market contain powerful estrogen-enhancing ingredients that men should never consume.
I also discovered industry secrets that supplement companies use to drive their production costs way down, while delivering a low-quality product without negatively affecting their marketing.
I depend on greens to get vital nutrients, fast. I couldn't just sit by and consume crap quality supplements, and watch men by the millions do the same.
Below you'll learn just how important greens are to our testosterone levels, health, virility, libido, and vitality, but also how almost all greens powders on the market are under delivering and using a Trojan Horse effect to deliver estrogen-inducing ingredients into your body…
…And I'll tell you the solution that will help you lower estrogen, reduce cortisol, and naturally increase your testosterone levels, energy levels, and live a healthier life.
Let's start with the first thing I discovered when I began really diving into testosterone…
HOW GREENS SUPPLEMENTS FAIL MEN
ISSUE #1: ESTROGENIC GREENS PRODUCTS
I love greens powders, even if they don't taste great. I can noticeably feel more energy, I don't get sick, and I'm able to work longer hours while maintaining focus… If they're good and actually deliver on what they say they contain (rare)…
…And I used to blindly buy greens supplements because I trusted that if they had 'greens', they couldn't be anything but good for me.
When I started studying which veggies, fruits, nuts, and so forth, help with testosterone and which ones increase estrogen, I was shocked by how many of the bad, estrogen producing ingredients were in the expensive, packed with a variety of fruits and veggies, greens supplement I'd been taking for years.
There's more, though. As I began to read labels more carefully, I discovered that every single greens supplement I bought contained at least one estrogenic ingredient, which is bad enough, because I eventually found out that an industry secret enabled them to put .01mg of an ingredient into their supplement, but still allow them to put it on the label without specifying the amount of it that was in it (more on that in a bit).
There are 4 major ingredients in greens powders that increase estrogen.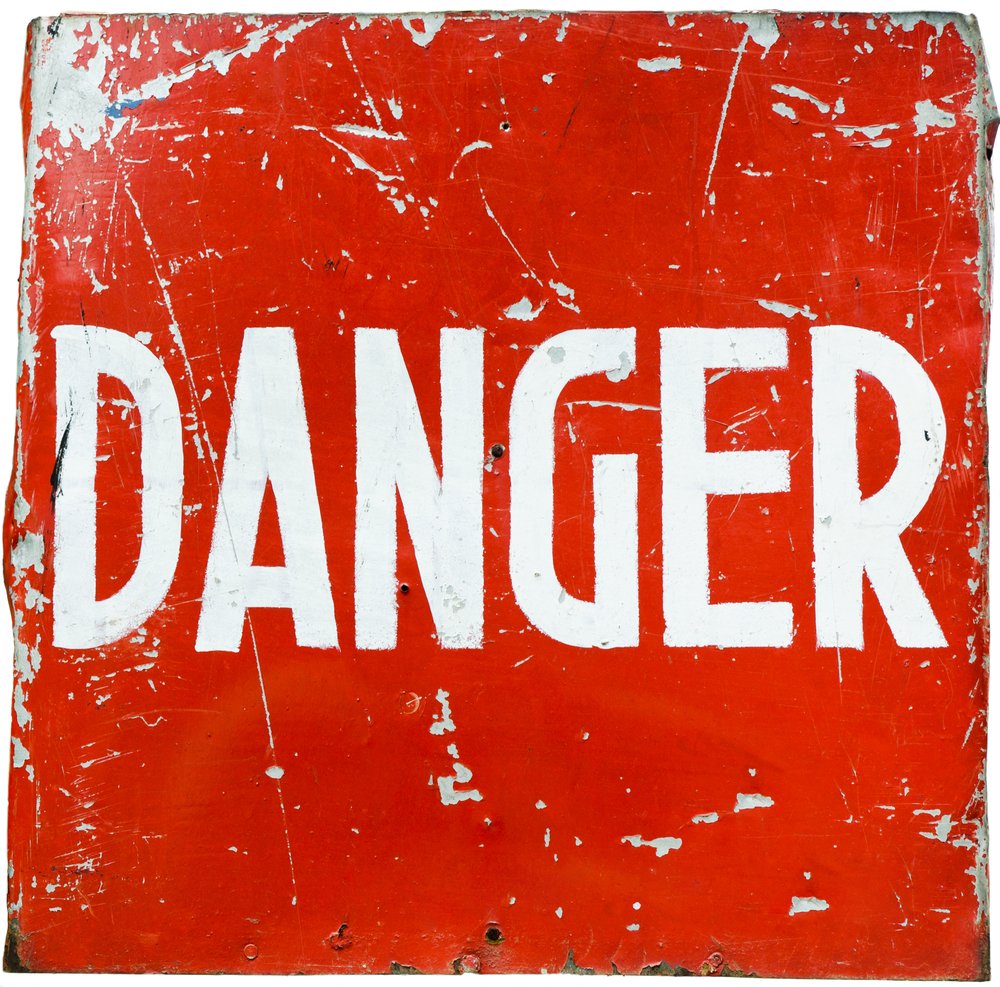 4 Ingredients Greens Powders Contain That Increase Estrogen (AVOID THESE AT ALL COSTS)
You probably know that soy is estrogenic. Well, soy isn't as estrogenic as some of the ingredients below.
These ingredients should be avoided by men at all costs, yet the vast majority of best-selling greens products use one or all of them.
These foods contain something called phytoestrogens, which are estrogen-like compounds in plants. Others are mycroestrogens, which are mold or fungi that are estrogenic. As a man you do not want to consume these ingredients.
If a man's estrogen levels are too high – which is increasingly common these days – his testosterone levels will suffer. More than that, men who have high estrogen levels can produce feminine characteristics, have mood swings, and are almost guaranteed to be carrying too much body fat.
If you pick up any bottle of greens, you're likely to find one of the following estrogenic ingredients in the bottle. In which case, do not use that greens supplement if you're a man.
Flax and flax products (seeds, oils) are incredibly popular and marketed as a health supplement in their own right, which has lead to supplement companies including them in greens supplements because of the market awareness of the customer base. The problem, obviously, is that flax increases estrogen maybe more than any other food.
Flax are very dense in compounds called "lignans". Lignans aren't only estrogenic, but some studies have shown that they reduce overall and free testosterone levels. Lignans increase SHBG (sex hormone binding globulin) which binds "free testosterone" rendering it useless, unable to move freely throughout the body and do what testosterone does (repairs tissue, among other things).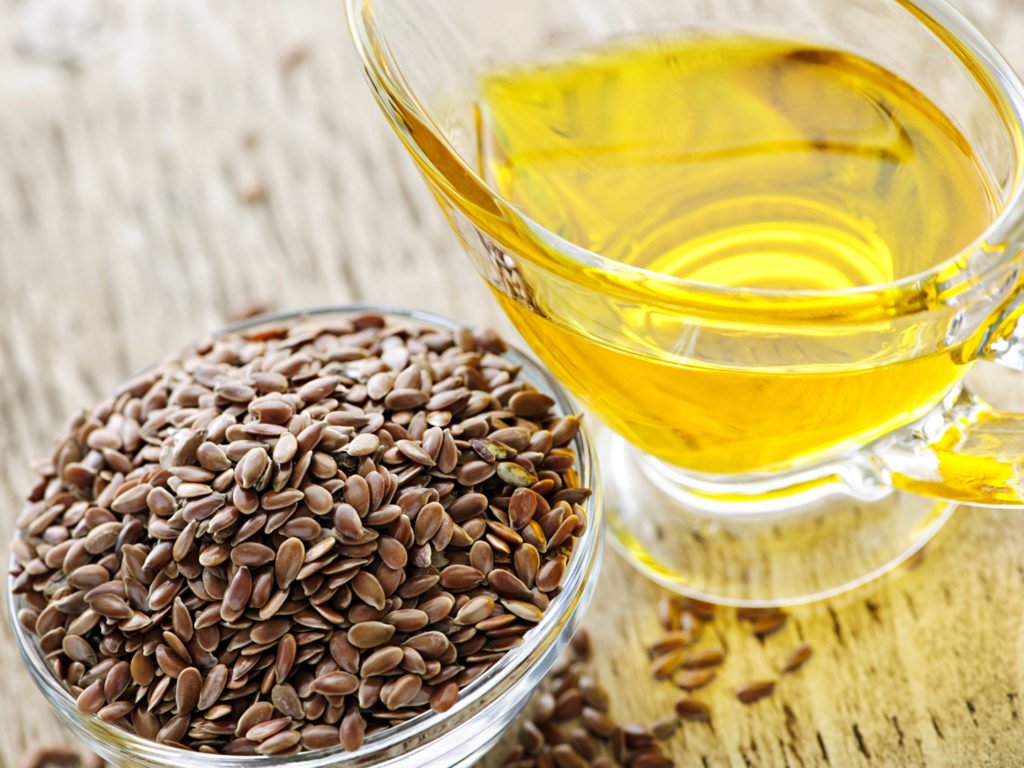 In an Indian study, researchers gave 3 groups of rats different amounts of green tea. They had a mild dosage, moderate dosage, and a high dosage. There have been other studies done on the effects of green tea on the testosterone levels of rats, but this one was the most interesting.
The findings were pretty incredible. The three groups saw declines in testosterone levels being greater with each increase in dosage: -25% in the mild group, -60% in the moderate group, and -78% in the high group.
The claims that greens companies use with mint is that it can help with sleep quality (borderline at best), indigestion, and cramps. What they don't tell you is that, while more research is needed, mint appears to lower testosterone levels, reducing total testosterone levels by a whopping 53% in one study done on rats, and free testosterone levels by an incredible 30% in a study with women.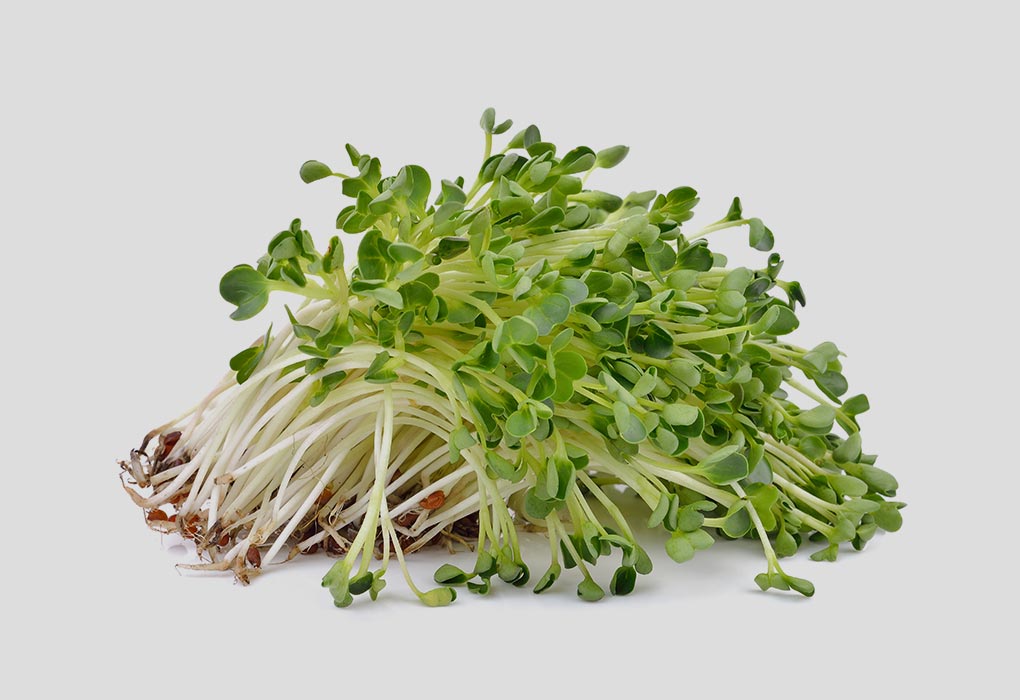 We talked about the lignans in Flaxseeds as one of the forms of phytoestrogens, well, alfalfa has another form of phytoestrogen called coumestans. Having the highest concentration of coumestans makes alfalfa highly estrogenic, yet you'll find it in a myriad of different greens supplements.
Again, it's all about market awareness. Like Flaxseeds people think that Alfalfa is great for you, ignorant of the estrogenic properties and the fact that there are other things that provide greater benefits that don't have the phytoestrogens that alfalfa has (like spirulina).
There are other issues with beloved greens supplements that began to come up as I set out to create my own greens supplement that I wasn't actually aware of on the onset.
There are industry secrets that were posed to me as a way to reduce costs without hurting marketing.
Marketing is all about the how aware the market is of certain ingredients, and what they perceive they do. It doesn't really matter what the ingredients actually do from the manufacturers standpoint, if the market wants, they include them.
This is why you'll see a litany of hot-button ingredients in greens supplements. You'll see nearly everything that you think is good for you, or has been 'shown' to be good for you. It doesn't matter if it actually is, or if its in the bioavailable amount.
Spirulina is a wonderful ingredient that we'll talk about more in a bit, but most companies don't put enough of it to actually matter. You'll see 1 gram or 500 milligrams, when the bioavailable amount (the amount of an ingredient needed to actually fulfill its purported benefits) of spirulina is between 2 and 10 grams, which is why I put 5 grams of spirulina in my greens supplement that's designed to help men increase testosterone levels, libido, and stay healthy and energetic.
Which brings me to the next issue I had with the vast majority of greens supplements I tested, used, and bought:
ISSUE #2: LOW QUALITY, EXPENSIVE GREENS POWDERS
INDUSTRY SECRET: AVOID THE 'PROPRIETARY BLEND'
When you see a 'proprietary blend', move on. A proprietary blend is simply a legal loophole that supplement companies use to cut costs down.
How?
A proprietary blend means they can put any amount of an ingredient into the blend, without having to say how much of that ingredient is in the greens powder. For example, say beet root powder is very expensive (and it is), and they want to include it for marketing, but only put .001 grams of it in to keep costs down, then they would put it in a 'special proprietary blend'.
They claim to use these blends to deter others from copying what they include in their supplement, but that's not true. They use proprietary blends to keep costs low while using expensive ingredients at low amounts for marketing.
With MAN GREENS I include every ingredient and the amount used. If someone wants to copy it, go ahead, deal with an expensive formula and low margins, good luck. Most people aren't willing to build something slowly, play the long game, nor are they willing to fork over that much for an idea that, while it may be the best greens supplement out there, is still an idea, an expensive one at that.
Proprietary blends are bad. They're a legal loophole that was initially intended to protect companies from having their formulas taken, but is now used to put a spec of a good, expensive ingredient, and surround it with cheaper ingredients so they can still claim to have this one, great ingredient, but in truth they don't have enough of it to matter, which brings up the next point.
A LITTLE OF EVERYTHING, A LOT OF NOTHING
For years I bought a greens supplement that was littered with 'healthy' ingredients. On the cover it said '40 whole servings of fruits and vegetables per scoop'.
That claim is just nonsense. The term 'whole' is relative. You can claim 'whole' for anything. And you can't fit 40 daily recommended amounts of these healthy ingredients into a single serving. It just doesn't happen.
What happens is they include a little bit of a lot. And end up with a whole lot of nothing that really doesn't have a positive effect on your body or your health. You end up pooping or peeing it out because there isn't a bioavailable amount of any of the ingredients in the greens powder.
I actually didn't know this until I started doing research on greens.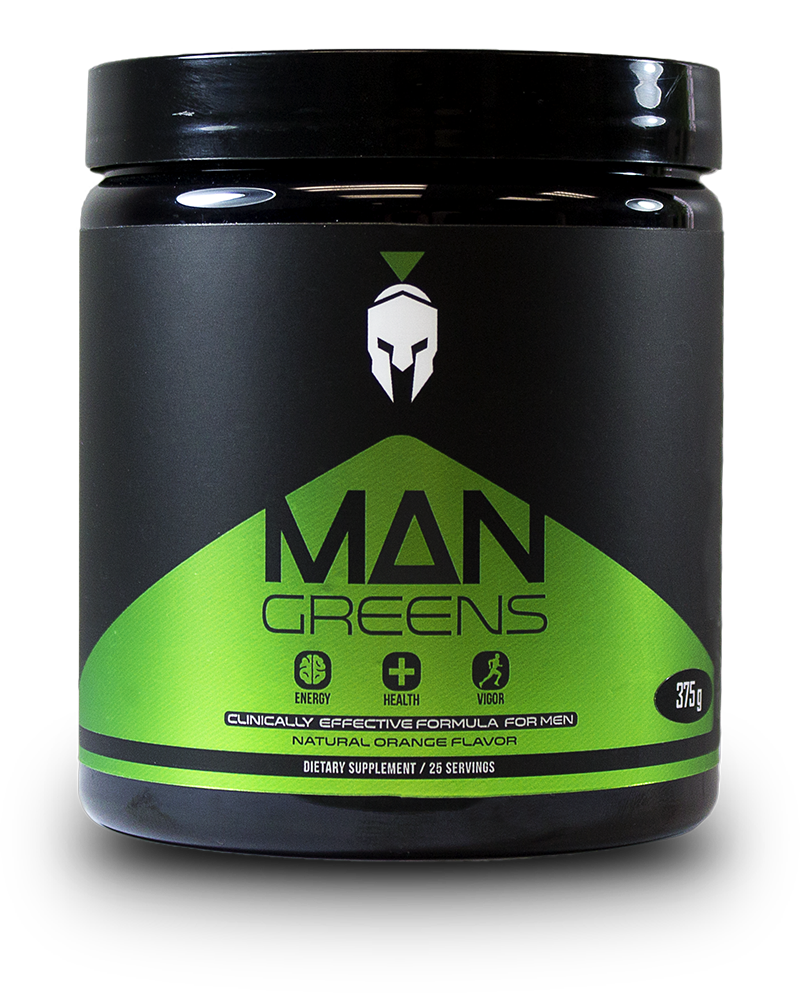 I found out about the slough of estrogenic ingredients in most greens powders, and started studying more about greens, and found out that not only do they have estrogenic ingredients, but they're not actually healthy because they don't have enough of the single, important ingredients, like spirulina or tumeric, to give you the benefits that made you buy the greens product in the first place.
And then there are the false claims…
TOO MANY GREENS POWDERS CLAIM TO DO THINGS THAT YOU SIMPLY CANNOT DO WITH GREENS, OR WITH SUPPLEMENTS IN GENERAL, OR WITH FOOD IN GENERAL.
B.S. PROBIOTICS & ENZYMES
Marketing greens supplements with probiotics and enzymes is big money, leads to a lot of sales, but it's false. It works because of our perception of probiotics and enzymes, as helping improve our health, absorption of nutrients, and gut health.
It's almost common knowledge today that anything with probiotics in it – or enzymes – is going to improve the 'brain of the body', as the gut is often referred as.
The problem, of course, is that they won't, they don't, and they're very cheap to include in a greens supplement, allowing the producer to claim big things, driving up the price, the sales, and the perceived value of the supplement.
After this section, you'll never look at greens supplements claiming to have probiotics and enzymes the same again.
I know I didn't after doing the research on it.
FALSE CLAIM #1: PROBIOTICS MYTH
Alright, probiotics may not be a lie, but saying that they're a cure-all for gut problems and overall health problems is just disingenuous. We don't know enough about probiotics to back up the claims being made by supplement companies.
And if you don't know, can you really claim?
That's all well and dandy, because who knows, they may come about to be great for sure, or not, or there's a certain form that's best for us and companies right now have no clue what that form is, my real problem with probiotics in GREENS supplements is that they're more than likely dead.
There's the matter of processing, where a whole whack of problems arise, from bacteria being heated too high during processing, bacteria being freeze-dried, both resulting in the bacteria (the probiotic) dying. And a dead probiotic is useless. It's just empty marketing.
If you do take probiotics, get them from an actual probiotic, or better yet, from yogurt, saur kraut, or another natural source. If you do get them from a pill it's best to know who developed the bacteria, how they did it, and how they delivered it to the store (ideally refrigerated).
FALSE CLAIM #2: B.S. ENZYMES
We naturally produce enzymes in our mouth, stomach, and intestines that help break down food so we can extract the nutrients we need from them to stay healthy, energetic, and optimal.
The truth about enzymes from external sources is that they likely don't really do anything. The theory is that by taking enzymes from external sources, we enable our body to save that energy that would be used on breaking down food to extract nutrients can instead be used for tissue repair and detoxification.
The problem is that these claims that many greens supplements shout to the heavens, appear to be untrue.
Some companies are daring enough to say that taking digestive enzymes can help you lose weight, which is a lie.
FALSE CLAIM #3: GREENS WILL NOT AND CANNOT ALKALIZE YOUR BODY
Much is made about 'alkalizing vegetables' and nutrients that dominate marketing for greens products. But it's all nonsense. In fact, the entire industry is nonsense (I'll explain why in a second).
That isn't to say that these fruits and vegetables aren't good for you, because they most definitely are, it's that they have no effect on your body's ph, none, zilch.
It is a fad, though, and fads make money, but they're not founded in fact, truth, or science. It's been known since the 1930's that you can't affect your body's ph through food, though you can effect your urine's ph (which is where much of the hoopla is made).
In truth, you need to be alkaline. But you are alkaline. If your body's ph sways at all you have a host of health problems. The good news: your body does a great job and keeping its ph levels within the range they need to be in, and you will not influence this ph based on diet.
In fact, for years (and they still claim this) they said that a high protein diet negatively effected ph levels in humans, which would lead to the destruction of bones. What does the science say? A high protein diet actually helps with bone density and health.
About the urine: when you consume healthy fruits and vegetables, your urine will change ph, but urine is experiment, it's your body discarding things that it doesn't need anymore, it is not a good way to measure your ph levels. Your blood, on the other hand, is.
When you consume a healthy amount of fruits and vegetables, your blood's ph won't change. It can't. That's not how things work.
By a greens company claiming to alkalize your body, it's just playing on a fad to get you to buy something. It's based on a lie.
So where's the harm?
It's these greens powders that claim to do something that they scientifically cannot do, that you have to watch out for.
Where there's smoke, there's fire.
Many of the greens supplements that claim they can do things that they cannot do, base their entire formula to fit this marketing. Thus, they're filled with absolutely useless ingredients, and as we've seen from the list of estrogenic ingredients, they're also harmful to men.
WHY TESTOSTERONE BOOSTERS DON'T WORK!
THE 3 MOST COMMON INGREDIENTS IN TESTOSTERONE BOOSTERS DO NOTHING.
So, what about the testosterone boosters?
This is a multi-billion-dollar industry the prey's on the massive decline in testosterone I mentioned earlier in the article.
Listen, you CAN have the thriving libido, the increased energy levels, low body fat, increased muscle gains, even the increased income and lack of depression associated with high testosterone.
And you can have it naturally with a simple, science-backed formula that I'll tell you about in a bit that will increase your testosterone levels MORE than diet and exercise alone.
But you won't get it with a testosterone booster, especially if they have these 3 ingredients in them that do absolutely nothing.
This is the most popular test boosting ingredient on the market, but does it work?
First, why do some claim it works at increasing testosterone levels? Well, because there are some studies that show it increases testosterone in animals.
The only problem is that for human studies, there's no increase in testosterone.
There was one study that found increases in testosterone in men and women, but it wasn't the tribulus that did it, rather, it was an active ingredient called Protodioscin that 99.999% of supplements don't have.
It's rare to see tribulus with Protodioscin. And when you don't have that active ingredient, tribulus is useless.
It's a waste of money, and while it's pitched as 'the be all end all' test booster, it really doesn't do anything. Supplement companies have just begun to blindly put it in their 'test boosters' even though it does nothing.
Verdict: Don't waste your money.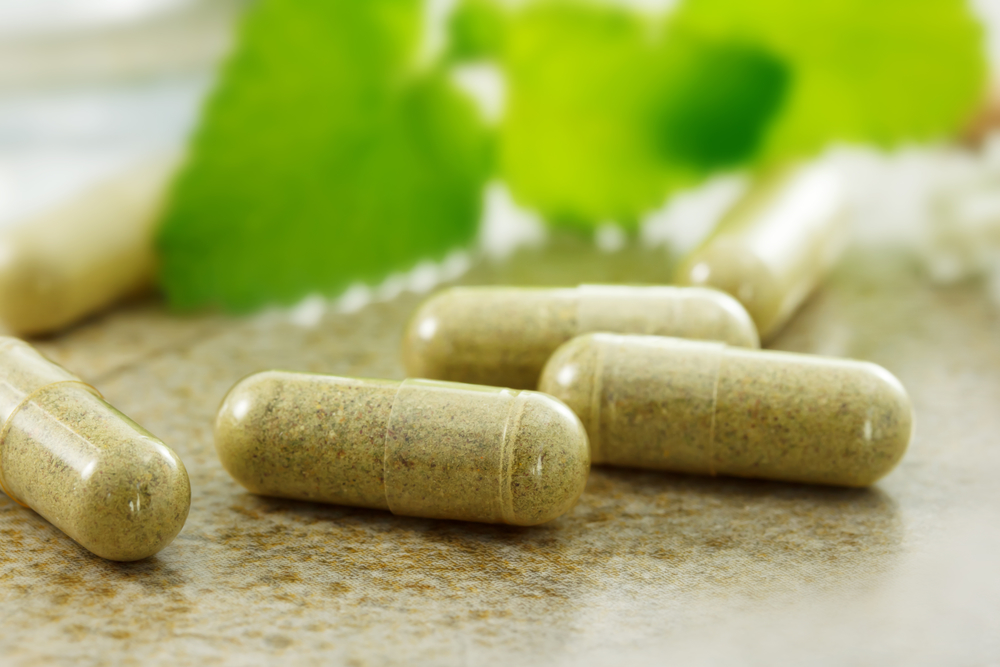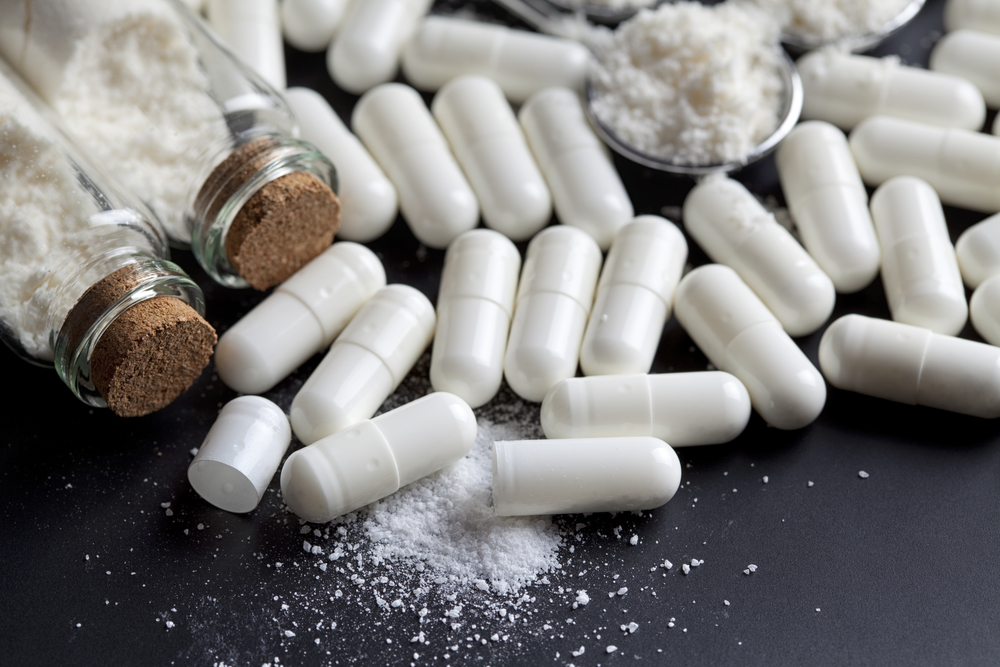 If you've searched for a natural testosterone booster you've come across fenugreek, it's unavoidable.
Being that it's so popular it must work, right? Why else would it be in so many testosterone boosting supplements (or at least supplements labeled as such)?
No! In fact, other than a study produced by the fenugreek manufacturer, other studies have shown that it LOWERS testosterone levels.
So please, if you value your hormones, stay away from this anti-androgenic herb.
The logic is that antler velvet from deer species grows at an alarming rate, and thus contains large amounts of growth hormone and testosterone.
We can keep this one pretty quick.
In all studies, antler velvet doesn't increase testosterone one bit, and it doesn't increase growth hormone.
It's useless.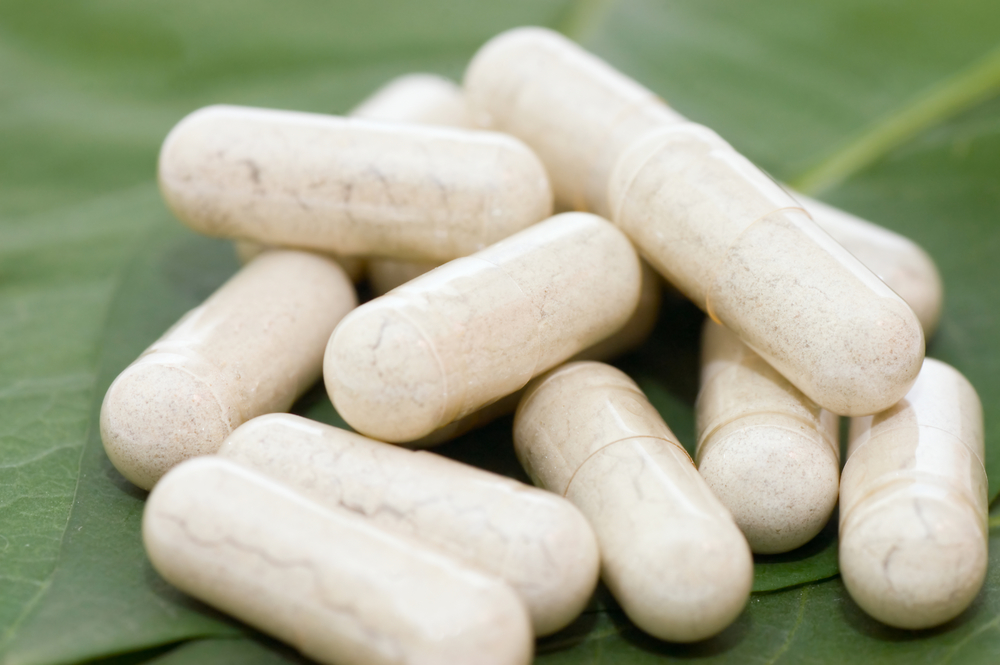 High, thriving testosterone levels help you:
Building Muscle Faster While Recovering Faster From Your Workouts
Building Muscle Faster While Recovering Faster From Your Workouts
Having a Strong Sex Drive and Libido
It's Also Been Shown to Decrease the Likelihood of Depression and Heart Disease
As Well As Increases In Energy and Overall Wellness
YOU ARE BETTER IF YOUR TESTOSTERONE LEVELS ARE HIGHER.
YOU ARE ALSO BETTER IF YOU HAVE MORE ENERGY AND ARE HEALTHIER, WHICH IS WHAT A GOOD GREENS POWDER DELIVERS.
So why can't you, as a man, have both?
INTRODUCING, FINALLY, A GREENS FORMULA
DESIGNED SPECIFICALLY FOR MEN: MAN GREENS
MAN GREENS is the first greens supplement that's ever been formulated for men, to help men increase their testosterone levels, improve libido, burn fat, gain muscle, while also dramatically improving health and vitality.
When I set out to 'crack the testosterone formula' I discovered that male performance isn't just about testosterone, but about our overall health and energy levels.
Rather than just help men increase their testosterone levels, MAN GREENS helps men thrive in every area of their physical and mental performance.
With Every Serving of MAN GREENS You'll…
Notice improvements in energy and focus that will help you thrive at work, to be able to achieve more with the time you're given in the run of a day.
Get sick less and notice improvements in health, both physical and mental.
Experience increased sex drive, but also sexual function with ingredients that not only improve libido but blood flow as well, and icariin, which viagra tried and failed to patent.
Notice a much-improved ability to recover, which is a primary function of testosterone, but also the vitamins and minerals in the MAN GREENS male performance formula.
Get a reduction in stress and improvement in overall mental well-being from some of the most potent ingredients nature can offer the mind.
Have improved sleep with the help of ashwagandha, which will help your testosterone levels and your ability to recover even more.
Notice more energy that comes from improved circulation, vital for both health and energy levels with increased nitric oxide levels in the body from daily beetroot consumption.
Toss expensive supplements that claim to increase testosterone but don't do a single thing, saving thousands annually.
NO ESTROGENIC INGREDIENTS
FULL BIOAVAILABLE AMOUNTS OF IMPORTANT FRUITS, VEGETABLES, AND HERBS
BOOSTS ENERGY, LIBIDO, AND IMPROVES FOCUS
AND INCREASES TESTOSTERONE NATURALLY IN MEN
POUR ENERGY, VITALITY, AND VIGOR INTO YOUR BODY WITH THIS NEW SCIENTIFICALLY-PROVEN FORMULA THIS MORNING!
No more low libido, low energy, inability to get it up or get that body fat lost.
No more accepting a mediocre, sedated, shell of the man you were put here to become.
THE POTENT MALE PERFORMANCE SUPERFOOD FORMULA THAT WILL BOOST TESTOSTERONE BY 540%, INCREASE ENERGY AND VITALITY AND IMPROVE YOUR OVERALL HEALTH BETTER THAN DIET AND EXERCISE ALONE
ASHWAGANDHA:
INCREASES TESTOSTERONE + LOWERS CORTISOL AND STRESS
Ashwadandha is an adaptogen, a term coined by Russian scientists to describe a herb that helps the body regain hormonal and psychological homeostasis – ie. it helps reduce stress. Studies are showing that it also increases testosterone in men.
In two different studies ashwadandha was shown to reduce cortisol levels by 27% and 33% respectively. Cortisol is a stress hormone. When your cortisol levels are high you're going to have trouble sleeping, but you're also going to use more protein for fuel than fat.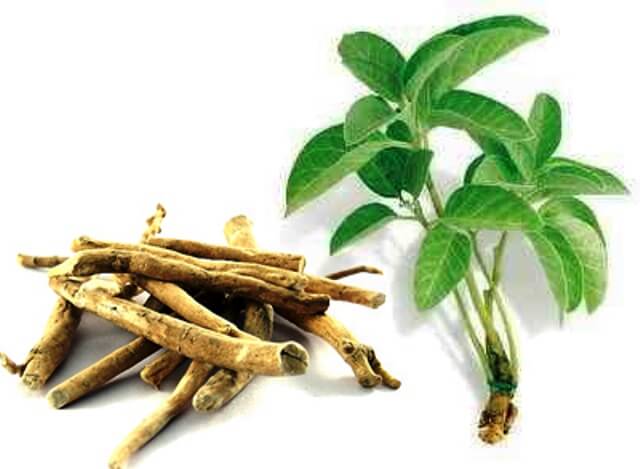 Reducing this stress hormone is vital. Not only does ashwagandha lower cortisol, it improves sleep quality, reduces inflammation, and increases HDL-cholesterol, all of which are important in producing optimal testosterone levels in men.
When we look directly at how ashwagandha effects testosterone, one study showed a 17% boost in testosterone (a pretty incredible increase from a single ingredient), with a 36% increase in luteinizing hormone, leading researchers to believe that ashwagandha stimulates testosterone production at the brain level, which is powerful, seeing as this is where the entire process of producing testosterone is begun.
AMOUNT: 600 MG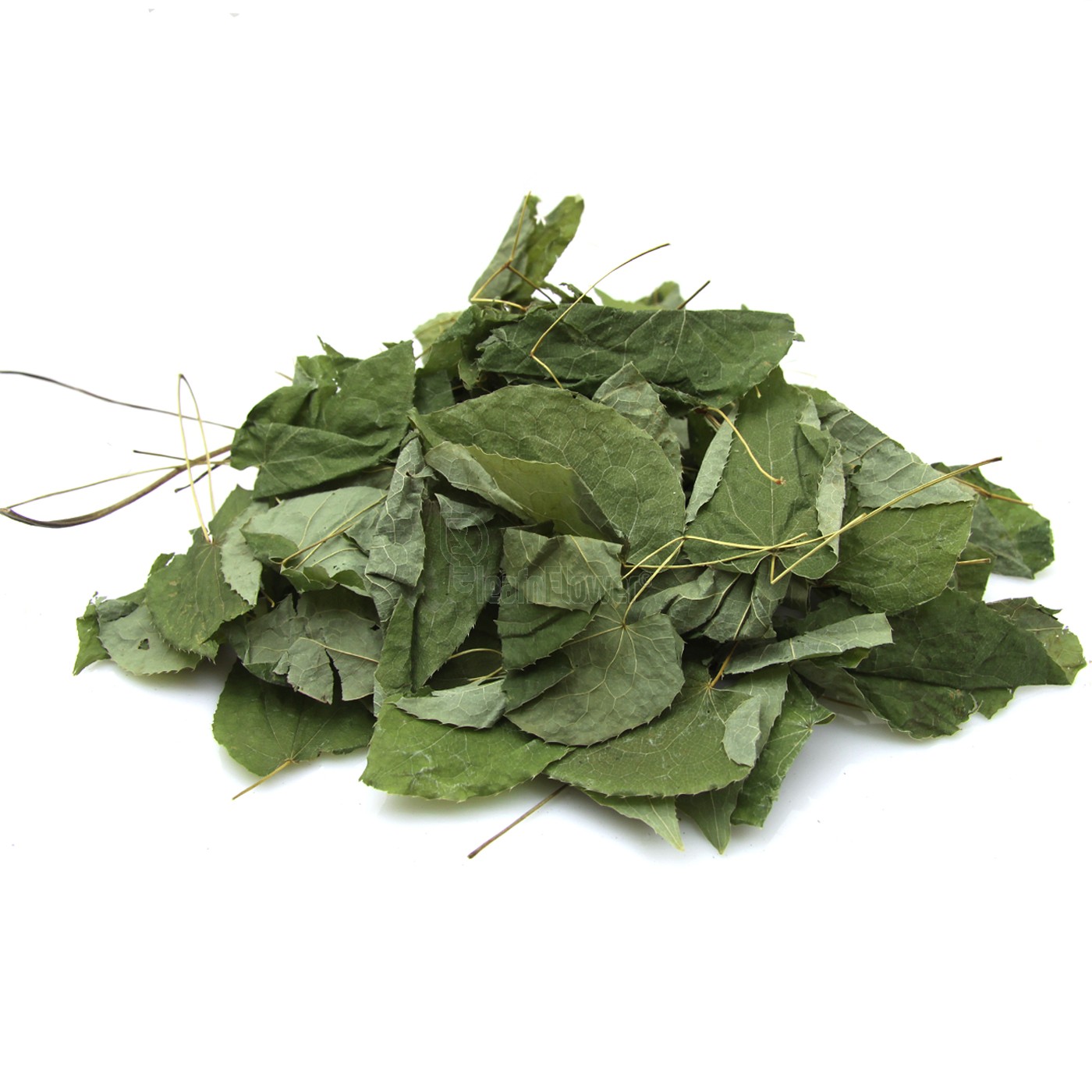 HORNY GOAT WEED:
POTENT TESTOSTERONE BOOSTER + IMPROVES ERECTILE PERFORMANCE
I was very skeptical about Horny Goat Weed simply because of its name. It sounds like a cheap marketing ploy designed to make money. Then, however, I dug into the research and found that Horny Goat Weed has not only been used for thousands of years, but it also has a very important ingredient that helps men both improve their testosterone levels, but also acts as a pro-erectile agent much in the same way that viagra does, albeit without any synthetic ingredients.
That ingredient is called icariin. Icariin inhibits the PDE-5 enzyme, which is also what viagra and cialis do with synthetic agents, while also increasing nitric oxide, which helps improve blood flow. One study on horny goat weed was used to overturn a patent made by the Viagra company stating that their formula was the only source of icariin in the world.
On top if this, other studies have shown that icariin has mimetic properties, and is able to mimic testosterone in the testes.
The benefits of Horny Goat Weed, however, don't stop with libido and testosterone. Goat Weed is also a very healthy sounds of 37 different flavonoids while also being a very strong antioxidant.
AMOUNT: 200 MG
FORSKOLIN:
INCREASES ANDROGEN RECEPTORS
Forskolin is a rare supplement that you'll almost never find in conventional 'testosterone boosters', but it's one of the most potent there is because of what it does with androgen receptors in the body.
Forskolin increases cyclic adenosine monopohosphate (cAMP) levels. cAMP is a messenger that transports biological signals between cells and hormones. Thus, increasing cAMP levels should increase the sensitivity, amount, and activity of hormones in the body, with one study showing an increase of 33% in obese men.
AMOUNT: 250 MG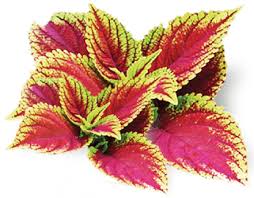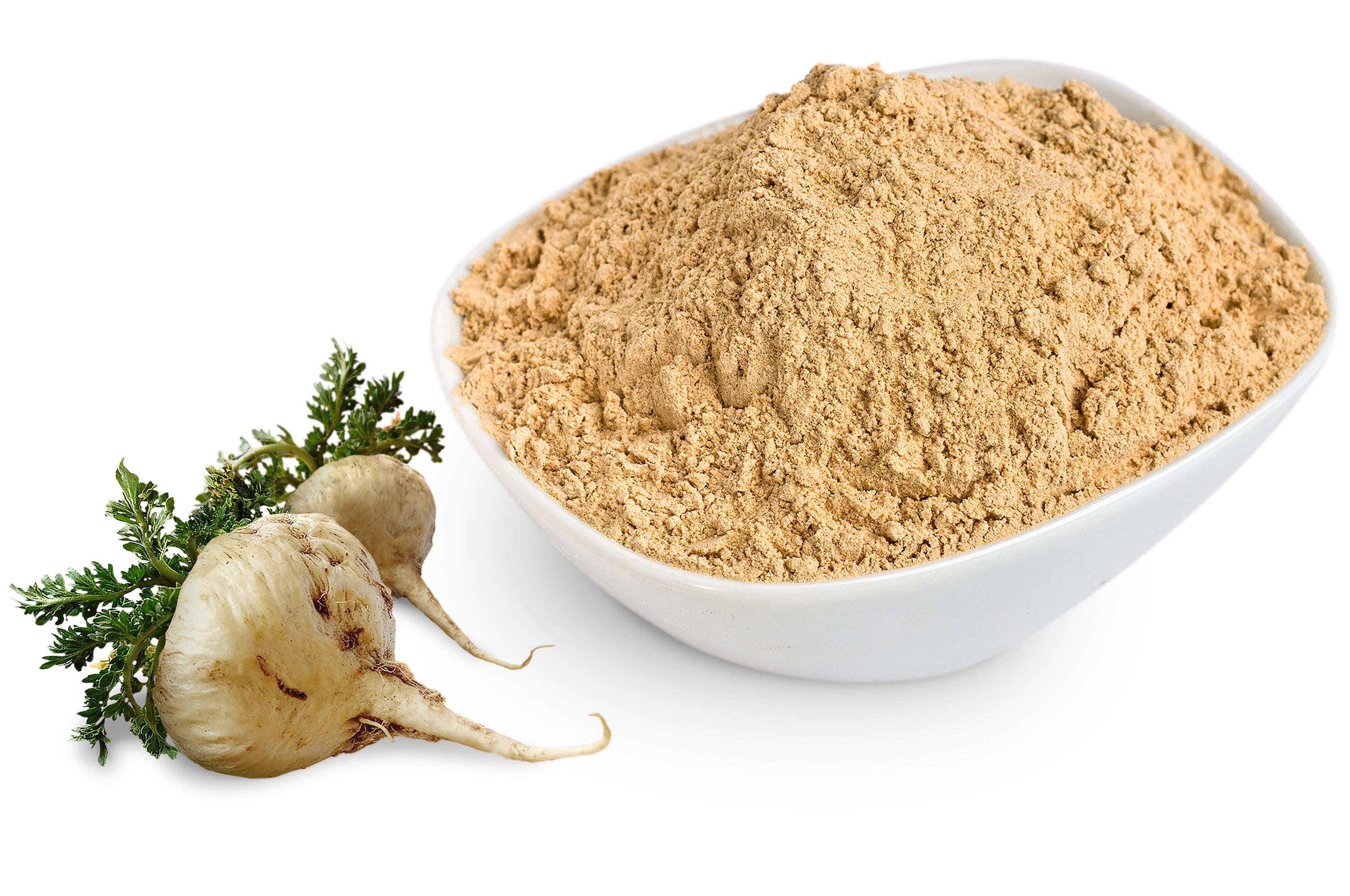 MACA:
BOOSTS LIBIDO + REDUCES ANXIETY
Maca has a long and rich history in ancient Peru where it was used by the Incan's to improve libido, mood, and well-being.
Since being re-discovered by German scientists studying 'lost Incan herbs', it's been more widely studied and shown to:
Improve sexual function and boost libido in men
Improves sperm production and health
Reduces feelings of anxiety, improves sense of well being, and may reduce depression
With sexual function and libido being so closely linked to testosterone, and low testosterone often lowering a man's libido and sex drive, you'd think that with its ability to increase libido and sexual function, maca would also help improve testosterone in men, but it doesn't.
It's often marketed as a magical testosterone booster because you can feel it working, but that's not what it does. Sexual function and a sense of wellbeing is important enough, you don't have to push it as something it isn't, which we are not doing.
AMOUNT: 1.5 GRAMS
SPIRULINA:
IMPROVES HEALTH + ONE OF NATURE'S MOST COMPLETE SOURCES OF VITAL NUTRIENTS
You can get a lot of nutrients from a few ingredients that aren't common in any diet on the planet. Spirulina is at the top of this list. It's a powerful blue-green algae considered one of nature's most complete sources of important and vital nutrients.
Spriulina has been shown to aid in numerous ways: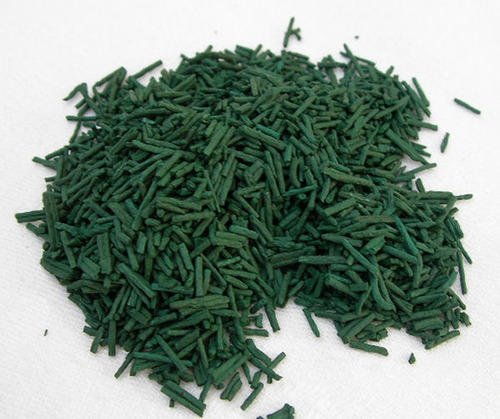 Reduces exercise-induced muscle damage
Improves cholesterol profile in the body
Improves muscle endurance
Spirulina is one of the most important ingredients you can have in a greens supplement. It's rich in minerals, essential fatty acids, and vital B vitamins.
AMOUNT: 5 GRAMS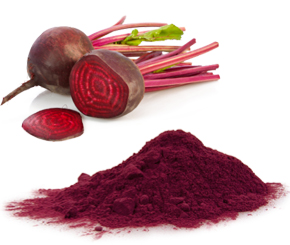 BEET ROOT POWDER:
HELPS IMPROVE FLOOD FLOW
Beets are the blood flow superfood. Packed with nitratines that help increase blood flow – which is vital for athletic and sexual performance. The more you consume nitratines, the more nitric oxide is released into your blood, which not only helps with erectile dysfunction, but will increase muscle pumps and aid in workout recovery.
AMOUNT: 1 GRAM
TURMERIC:
CAN REDUCE DEPRESSION, INFLAMMATION, AND PAIN
Turmeric is rich with antioxidants and anti-inflammatory properties that can reduce and inhibit pain, depression, and other problems related to inflammation.
Other benefits of turmeric:
Slow progression of some forms of cancer
Reduce age-related cognitive decline
Reduce lipid levels and plaque build up and promote cardiovascular health
AMOUNT: 500 MG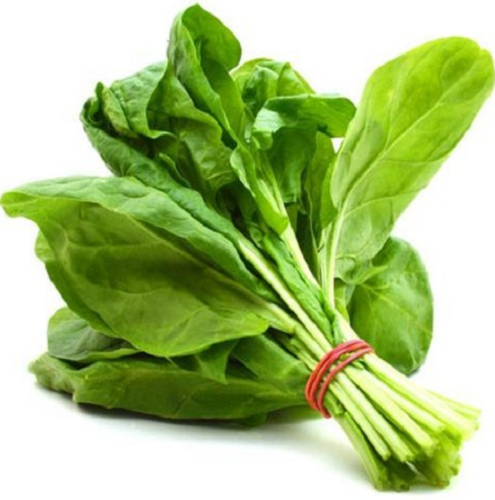 SPINACH:
FILLED WITH VITAMINS, MINERALS, AND ANTIOXIDANTS
People who eat several servings of vegetables live longer and healthier lives. Spinach is more than just a 'good for you' leafy green, however, as it's packed full of testosterone boosting apigenin, as well as a great source of magnesium, which has been shown in multiple studies to increase free testosterone, one study found an increase of 24%.
Spinach is also filled with vitamin E and nitritines, the latter helping increase nitric oxide in the body, helping with bloodflow and circulation, as well as choline, which is very important for both testosterone and sexual function, on top of that spinach is packed with antioxidants.
AMOUNT: 1 GRAM
MORINGA OLEIFERAL:
MAINTAINS HEALTH, REDUCES BLOOD PRESSURE AND IMPROVES HEART HEALTH.
Very high in potassium, calcium, vitamin A, protein, and vitamin C, moringa is a powerful tree that has been used in India for centuries to maintain health and energy. It contains all of the potent antioxidants you need to maintain and repair cells, to stay healthy and vibrant.
It's a multivitamin on its own and a necessary addition to a good greens supplement.
AMOUNT: 1 GRAM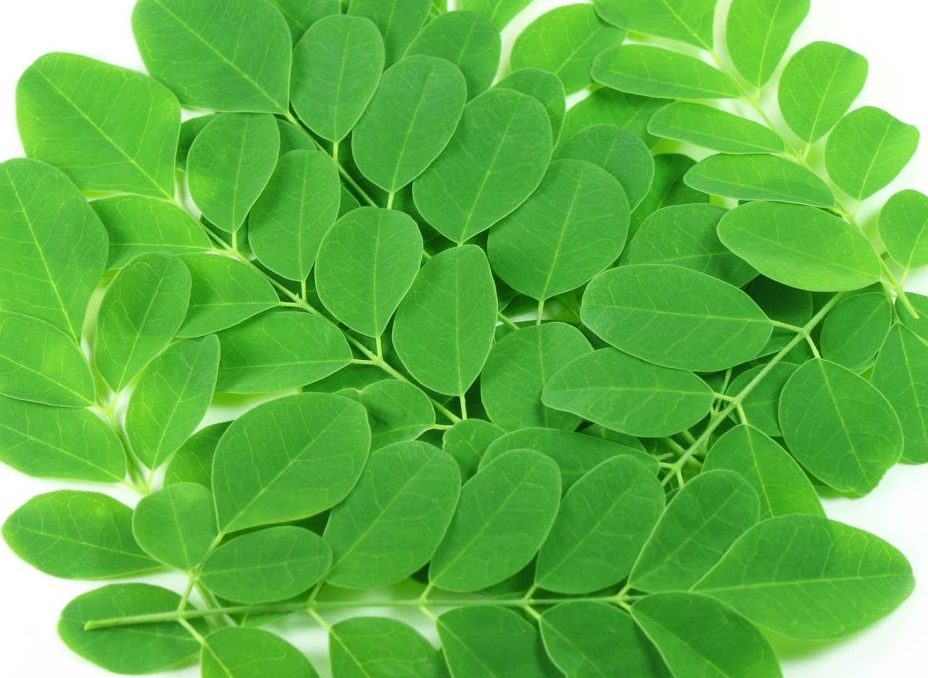 ON TOP OF IT BEING THE BEST GREENS SUPPLEMENT FOR MEN, MAN GREENS ALSO TASTES THE BEST, AND IT'S FLAVORED WITH NATURAL ORANGE, ALSO A FRUIT THAT HELPS BLOCK ESTROGEN IN MEN.
One of the biggest impediments to men consuming more greens is that they're just not tasty, be it the powders or the veggies, and especially the ingredients we've listed so far.
Healthy doesn't mean tasty, expect when it comes to Man Greens.
The natural orange flavor will knock your socks off. You'll want to double and triple dose because of how good it tastes, but also the feeling you get when you take it.
Man Greens is optimally designed for men to:
Naturally Boost Testosterone
Lower Cortisol and Improve Mental Well-being
Improve Overall Health and Vitality
Not a corner was cut in the production of Man Greens.
You get the FULL bioavailable amount of every ingredient on this list.
We didn't include any ingredients that didn't really need to belong just so we could include it in the marketing.
SIMPLY PUT, MAN GREENS CONTAINS 100% NATURAL, HEALTHY, RARE INGREDIENTS THAT WILL HELP YOU MAINTAIN THE VIGOROUS LIFE YOU LIVE.
You won't find Man Greens filled with ANY synthetics, either. Only real greens ingredients that I proudly use every day and thrive on.
It isn't filled with useless probiotics or hyped-up enzymes that don't really do anything but boost marketing, tricking people into buying dead things that aren't active in the supplement.
It's not crammed full of tidbits of ingredients under the cloud of the 'proprietary blend' simply so they can be included in marketing, and for no other reason.
There hasn't been a greens supplement that doesn't include estrogenic ingredients that are harmful to men (almost all greens supplements have at least one of the ingredients mentioned, and others that weren't mentioned) while also including ingredients that are shown to help men hormonally and with their sex drive, both of which are on the decline in the modern man.
We can confidently claim that Man Greens is the best supplement for men who want healthy hormones, a strong libido, and a healthy body in general, and nothing else even comes close.
If there's one supplement that men actually need to take, that delivers on multiple fronts, that has no fluff, no nonsense, not false-marketing, fake-ingredients, and no false claims, just pure, 100% natural ingredients that men don't get nearly enough of in their diet (if any at all), it's Man Greens.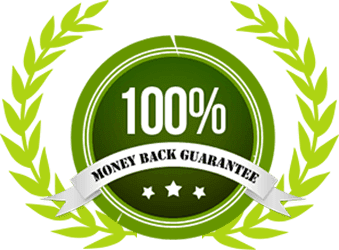 1-YEAR IRON CLAD GUARANTEE
1-YEAR 100% MONEY BACK 5X GUARANTEE
Why spend $100 on a testosterone booster that's been proven to do nothing?
Or $89 on a greens supplement that not only increases your estrogen levels, but doesn't even have enough of the bioavailable amounts of any ingredient to make a real impact?
Neither makes sense. It also makes no sense to not try the Man Greens formula, the first greens powder specifically formulated for men, that delivers both on the vital nutrients you need to thrive in your day from a nutrition level, but also giving you the few herbs that actually improve your testosterone levels.
On top of that, you can test drive Man Greens with ZERO risk.
I've told you everything you need to know about Man Greens, why it's the best greens + testosterone booster for men, filled with only the full amounts of ingredients that are guaranteed to keep you strong and healthy and anabolic as you continue to use it daily.
But I respect you, your time, effort, and your money, so if you're not seeing the benefits that both I have, my pals have, and the growing Tribe of thousands of Man Greens members have, I'll make you a promise that you can take to the bank…
If you don't:
Experience the morning wood, the best sign that your hormones are turning around in the right direction, the healthy, strong, powerful ratio you need to thrive, or…

Get the energy, focus, and mental well-being from the nutrients in things like turmeric, ashwagandha, maca, morigna, or beetroot.

Feel healthier, filled with vim and vigor, energy and vitality.

Notice improvements in sleep and overall health.
I'll personally refund every penny. All you have to do is returned your unopened bottles and I'll give you a full refund, no questions asked.
This is rare for a supplement company to do. With most supplement companies you'll have a hard time getting their customer service, let alone their owner. Just check the FAQ section for my personal information so you can get in touch with me, or the support team we have who'll process everything you need and help you in any way we can.
Supplementing is an addition to an already healthy diet. You add ingredients that you don't normally get enough of to your diet to fill gaps in your nutrition.
That's why I created Man Greens, it delivers on the truest sense of supplementation with 100% natural ingredients that aren't found in modern diets.
You're not getting enough spinach daily, I can guarantee that.
You're not consuming enough ashwagandha, forskolin, or horny goat weed, that, I can bet on.
You're not getting nearly enough beets or moringa, turmeric or spirulina in your diet right now.
Nor are you getting enough of the nutrients that each of these powerful ingredients give you.
Nor at you getting the benefits that each provides.
Man Greens is a different supplement. One that you can use daily, that you can't overdose on, that doesn't have side effects or estrogens.
There's a gap in the supplement world when it comes to greens, where they're clearly focusing on women, without much (if any) education into the effects that things like mint, alfalfa, and flax has on men. So, I filled that gap with the best supplement a man can have.
GET 1 – 3 – OR 6 BOTTLES OF MAN GREENS TODAY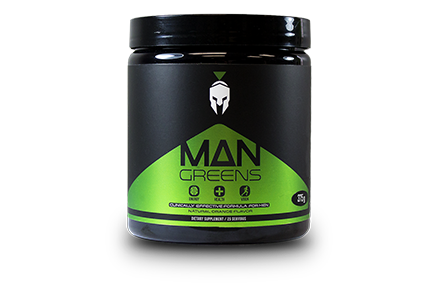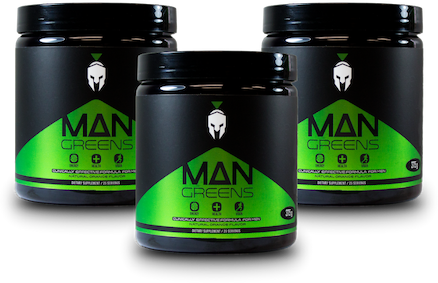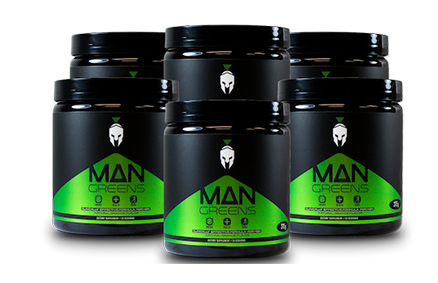 Probiotics
[HEATING] Influence of Temperature on the Compaction of an Organic Powder and the Mechanical Strength of Tablets Emilie Rouèche, Eric Serris, Gérard Thomas, and Laurent Périer-Camby, Powder Technology 162, no. 2 (2006): 138–44. doi:10.1016/j.powtec.2005.12.005.
Enzymes
Enzymes Try to Grab the Spotlight Tatiana Boncompagni, New York Times, February 22, 2012. Accessed September 11, 2015.
Estrogenic Foods
Turner J, Agatonovic-Kustrin S, Glass B. Molecular aspects of phytoestrogen selective binding at estrogen receptors. J Pharm Sci. 2007;96(8):1879-1885.
Flax Seeds
Lignans Thompson L, Robb P, Serraino M, Cheung F. Mammalian lignan production from various foods. Nutr Cancer. 1991;16(1):43-52.
Denis L, Morton M, Griffiths K. Diet and its preventive role in prostatic disease. Eur Urol. 1999;35(5-6):377-387.
Green Tea
http://nopr.niscair.res.in/bitstream/123456789/12615/1/IJEB%2049(9)%20689-697.pdf
Mint
Akdogan M, Ozguner M, Kocak A, Oncu M, Cicek E. Effects of peppermint teas on plasma testosterone, follicle-stimulating hormone, and luteinizing hormone levels and testicular tissue in rats. Urology. 2004;64(2):394-398.
Spearmint herbal tea has significant anti‐androgen effects in polycystic ovarian syndrome. a randomized controlled trial. Online Library. http://onlinelibrary.wiley.com/doi/10.1002/ptr.2900/abstract. Accessed February 3, 2017.
Reishi Mushroo
https://www.ncbi.nlm.nih.gov/pubmed/16029938
The effect of strain, growth stage, and cultivating condition of Ganoderma lucidum on 5α-reductase inhibition. SpringerLink. http://link.springer.com/article/10.1007/s10086-004-0645-z. Accessed February 22, 2017.
Liu J, Tamura S, Kurashiki K, et al. Anti-androgen effects of extracts and compounds from Ganoderma lucidum. Chem Biodivers. 2009;6(2):231-243.
Liu J, Shiono J, Shimizu K, Kukita A, Kukita T, Kondo R. Ganoderic acid DM: anti-androgenic osteoclastogenesis inhibitor. Bioorg Med Chem Lett. 2009;19(8):2154-2157.
Fujita R, Liu J, Shimizu K, et al. Anti-androgenic activities of Ganoderma lucidum. J Ethnopharmacol. 2005;102(1):107-112.
Ashwadandha
https://www.ncbi.nlm.nih.gov/pubmed/23439798
https://www.ncbi.nlm.nih.gov/pubmed/19789214
https://www.ncbi.nlm.nih.gov/pubmed/26609282
https://www.ncbi.nlm.nih.gov/pubmed/24371462
Horny Goat Weed
https://www.ncbi.nlm.nih.gov/pubmed/17169663
Zhang ZB, Yang QT. The testosterone mimetic properties of icariin. Asian J Androl. (2006)
Maca
Beneficial Effects of Lepidium meyenii (Maca) on Psychological Symptoms and Measures of Sexual Dysfunction in Postmenopausal Women Are Not Related to Estrogen or Androgen Content Ibid.; Nicole A. Brooks, Gisela Wilcox, Karen Z. Walker, John F. Ashton, Marc B. Cox, and Lily Stojanovska, Menopause 15, no. 6 (2008): 1157–62.
https://www.ncbi.nlm.nih.gov/pubmed/12472620
https://www.ncbi.nlm.nih.gov/pubmed/18801111
Forskolin
https://onlinelibrary.wiley.com/doi/full/10.1038/oby.2005.162
Spinach
https://www.ncbi.nlm.nih.gov/pubmed/20537519
https://www.ncbi.nlm.nih.gov/pubmed/20352370
https://www.sciencedirect.com/science/article/abs/pii/S0731708508005955 (magnesium)