We do not admire the man of timid peace. We admire the man who embodies victorious effort; the man who never wrongs his neighbor, who is prompt to help a friend, but who has those virile qualities necessary to win in the stern strife of actual life. –Theodore Roosevelt
To win in the stern strife of actual life.
Life is hard. Being an ambitious man makes it even more difficult. The higher you aim, the greater your trials will be but simply by setting out in a more audacious fashion you become the man worthy of the grand dream you're chasing.
Be the guy not soft and timid, shying away from that call of the wild. Be the man marching to a different tune, not one of quiet mediocrity, but of 'victorious effort', and be a good man while you're doing it.
This is who we respect. This is who we want to be around and who we want to emulate. This is the guy that inspires others while taking care of even more.
He doesn't shy away from the harshness nor the brutality of life, nor does he complain that it is so. He doesn't look at the lives of others with envy because of their ease. Comparisons don't make their way into his head. He doesn't get jealous nor envious nor does he resent those he helps because he's always helping them.
He knows his role in life and he doesn't bitch or wine about it. More than that, he goes about it in an aggressive manner. He hunts down life. He makes life his bitch rather than being a victim to its whims.
Be that guy.
Be tough as nails. Be dependable. Be a winner. Be active, aggressive, and assertive while also being good and kind and useful.
Don't be the pansy. Don't be the guy who relegates himself to live a small life because he's so scared of failing or dying or danger.
I know what you want to be. I know what I want to be. But the desire has to be backed not just by dreams and goals but by the man that can make those dreams and goals real.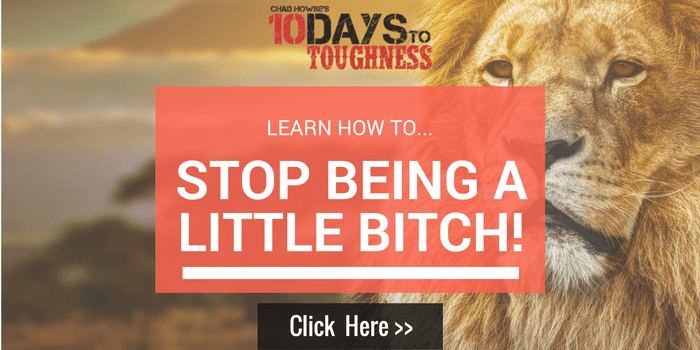 About The Author
Chad Howse: Chad's mission is to get you in the arena, 'marred by the dust and sweat and blood', to help you set and achieve audacious goals in the face of fear, and not only build your ideal body, but the life you were meant to live.
You can contact him at –
http://www.ChadHowseFitness.com/
https://www.Facebook.com/ChadHowseFitness
https://www.YouTube.com/ChadHowseFitness