My name is Shad Wheeler, I am a Professional Hunting Consultant, Hunting Guide and die hard Bow Hunter. I have a lot of people ask me about Sheep hunting, what its like, where do you go, and so on. So, I thought I would share a primer on Dall Sheep hunting, as this is where most guys start their sheep hunting.
Sheep hunting is not for the faint of heart, in all my life I have only met two kinds of sheep hunters, those who are absolutely addicted and those who swear they will never sheep hunt again. If you love remote, rugged and wild places, then Dall Sheep hunting might be the perfect hunt for you. So lets start off by learning a bit more about Ovis dalli.
Species Overview:
Dall Sheep (Ovis dalli) are a member of the thin horn sheep family (which includes Stone Sheep and Fannin Sheep) and are hands down one of my favorite sheep to hunt. Not only are they absolutely stunning to look at, but the country they call home is breath taking. Dall Sheep can be found throughout the Mountains of Alaska, the Yukon, Northwest Territories and Northern British Columbia.
Dall Sheep prefer open country where they can use their incredible eyesight to their advantage, so typically you will find them above tree line, on high alpine ridges, big grassy bowls and scree filled slopes and valleys. They typically maintain close access to steep rocky terrain where it is difficult for predators to follow them. The main predators that Dall Sheep have to content with are wolves, coyotes, black bears and grizzly bears. The lambs also have to be wary of Golden Eagles, as they will look for opportunities to knock them off cliffs.
Mature Dall Sheep Rams have long, somewhat heavy, curling horns that continue to grow for most of their life, however as they get older you will see that their growth rings shrink and begin to form very close to each other. Dall Sheep Ewes on the other hand have shorter, skinnier, slightly curved horns. Rams spend most of the year in bachelor groups or bands, they rarely are seen mixing with the ewes and lambs except during the rut which takes place in November and December.
Sheep eat a mix of grasses and other plants during the summer, but when winter arrives they primarily will be found lichen, moss, grass and sedge stems. In the spring it is not uncommon for some Dall sheep populations to travel long distances to find and visit natural mineral licks, especially the Ewes and lambs.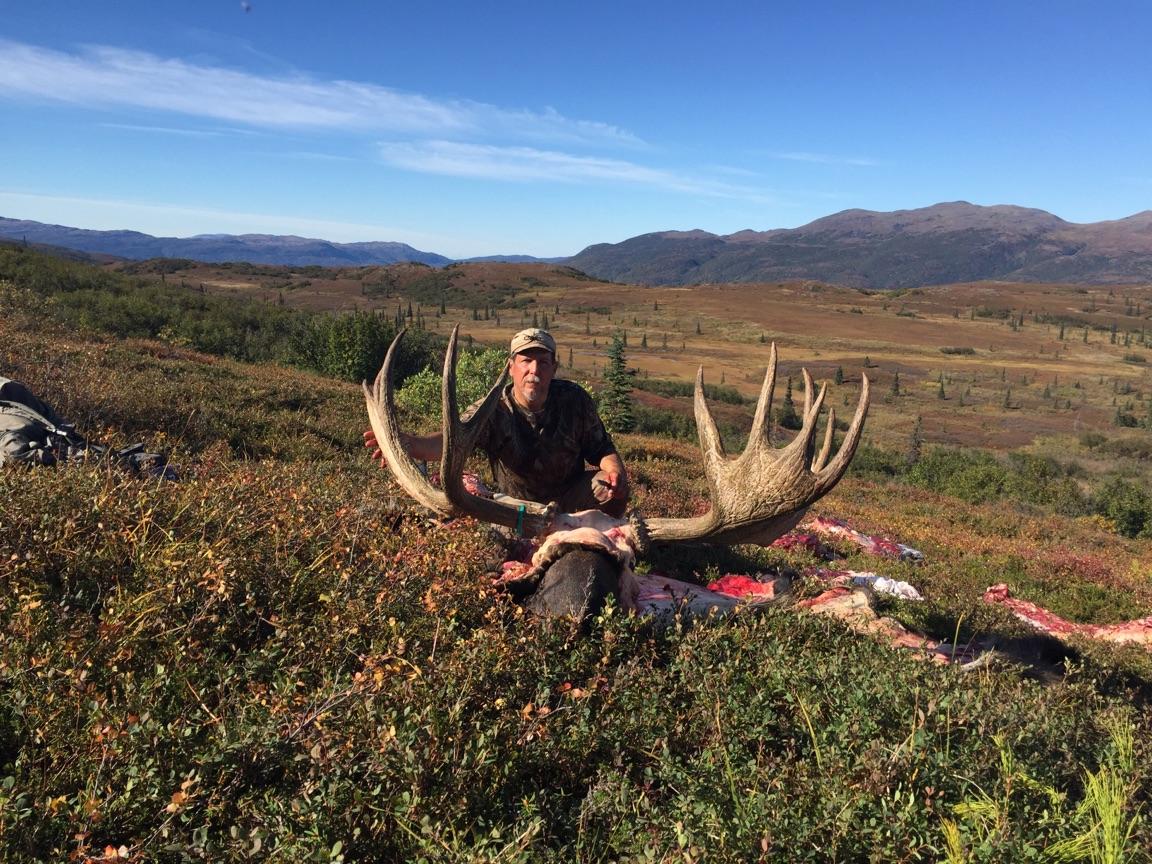 Dall Sheep Hunting Overview
Dall Sheep hunts are typically the entry point hunt for those looking to start sheep hunting as they have maintained a lower price point as compared to Stone Sheep, Bighorn Sheep and Desert Bighorn Sheep.
Dall Sheep hunting is hard work, as the majority of hunts are remote, fly in and backpack hunts. Which means that you are humping the mountains for 6-10 days with 45-50lbs on your back. You will be climbing knife ridges, scree slopes and perhaps even scaling a cliff or two, so you need to be in good shape and invest in the right gear.
You will need good quality optics as you will spend countless numbers of hours glassing the mountains and valleys looking for your Dall Sheep. You would think it would be easy to find a white sheep in the midst of grey and green mountains, but you would be wrong. Your eyes will get tired and will burn, but you have to stay committed to glassing until you find your quarry. However, there are definitely times that everything just comes together, as I had happen on one of my hunts. We had just set up our camp for the night and started glassing across the valley, when two rams walked out on the hillside right behind our camp. As the saying goes sometimes its better to be lucky than good.
You will want to be physically and mentally prepared to hike 5-10 miles per day with your 45-50lb pack and your weapon, while living on snacks and freeze dried meals. I highly recommend that you bring some sort of electrolytes supplement, (I like nuun tablets) as you will be sweating, and working hard and they will help your body perform. If you are a coffee drinker I would also recommend you bring some Starbucks Vias or something similar. I would also recommend you bring a couple paperback books and a deck of cards in the event you get weathered in for a couple of days. This is not a comprehensive list, so if you are interested in a full gear list let me know and I will hook you up.
Going on a Dall Sheep Hunt:
Unless you are a resident of Alaska or one of the Canadian Provinces that Dall Sheep call home, you will only be able to experience a Dall Sheep hunt by hunting with an Outfitter. So though it may make it more expensive, it also leads to safer and more successful hunts.
I work with some fantastic Outfitters to offer you a number of Dall Sheep hunt options to fit your needs and capabilities. Dall Sheep hunts are typically 8-10 days in duration and are quite physical as the primary means of hunting them is backpack hunting on foot, which means you will be covering ground and hauling your camp along with you. However there are a few unique areas where we are able to offer float hunts for Dall Sheep, or Helicopter fly in hunts, but you still have to be in good shape to make the climb after them, but you won't be packing your camp and all your hunting gear on your back day in and day out.
Food on most Dall Sheep hunts will be freeze dried, with some trail mix, cheese, salami, make sure to bring instant coffee packets if you are a coffee drinker.
Price Ranges –
Alaska Dall Sheep hunts range in price from $16,500 – $22,500 currently

Yukon and Northwest Territories Sheep Hunts range in price from $22,500 – $25,000
Combo Opportunities – Most Dall Sheep hunts will have the opportunity for hunters to combo any of the following depending on time of year and location – Moose, Caribou, Grizzly and Black Bear.
Trophy Quality: On most outfitted hunts hunters can expect to harvest rams in the 36-38" range, however there is always the opportunity to find one that breaks the magic 40"+ mark. Your best odds to take a really big ram is going to be to draw a limited entry tag in the Chugach, pursue a super rugged hunt in the Wrangells or spend a couple thousand dollars more and go hunt in the Yukon on NWT. However, there are a few places in the Alaska Range, Brooks Range and the Talkeetnas that regularly produce larger rams.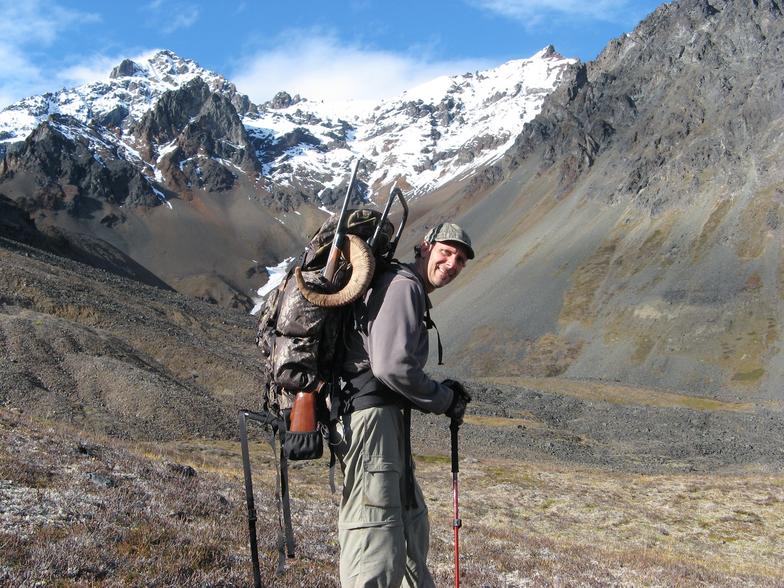 Dall Sheep Hunts Available:
Brooks Range Backpack Hunts – 10 day hunts 12 day trips, high success for hunters who are in really good shape, opportunity to combo Caribou and/or Moose.

Brooks Range Float Hunt – 10 day hunt, 12 day trip, great option for the guy who can't quite pound the mountains day in and day out anymore, but who can make a couple big pushes when needed, or for the hunters who just want to do something different.

Alaska Range Backpack Hunts – these are 8-10 day hunts, 10-12 day trips, great opportunity for Caribou, Grizzly and Fishing, with some Outfitters also having big moose.

Alaska Range Fly In/or ATV Hunt – This is an exceptional hunt with high success on 36-38" rams, can combo Caribou and Black Bear on the August hunts, moose and grizzly available on September hunts.

14C and Tok Draw Hunts – If you can draw one of these tags, this is an excellent opportunity to find a 38"+ ram of your dreams.

Talkeetna Range Backpack Dall Sheep – 10 day hunt, 12 day trip, excellent area to combo big Grizzly and Moose, solid trophy quality.

Yukon Fly In Backpack Dall Sheep – 10 day hunt, 12 day trip, area produces 40"+ rams every year, and you can combo Moose, Caribou and Grizzly as well as wolf and wolverine.

NWT Helicopter Fly In Dall Sheep – 10 day hunt, 12 day trip, high success with lots of rams in the 36-38" size. Combo opportunities for Moose and Caribou.
If you are interested in learning more about Sheep hunting or hunting in general, make sure to visit my website www.sashunts.com and sign up for my email list and then shoot me an email with your questions and I will do my best to answer them. You can email me [email protected]
Shad Wheeler
Specialty Adventure Services
509.679.0225