Alright…
I just looked at the web site to see when the first article was published.
It was October 2009 – holy hell!
I remember that time…
Here's how this business got started (in short form).
–         buddy who's had an online business for years shows me the ropes.
–         I go with him to an event he's speaking at in Anaheim (a word my mom pronounces Anahein to this day).
–         I start the web site with no real idea as to how I'll monetize it.
–         I join a mastermind group this same pal (great guy) is running.
–         The mastermind group was beyond me, didn't come out of it with anything that actually earned.
–         Just focused on writing and growing the site.
–         Changed my focus from writing for the customer, the visitor, the user, to writing to myself (my ideal readership are guys with the same questions, obstacles, goals, dreams, as myself, so it made sense).
–         This was a big move, good idea.
–         Came up with the Man Diet.
–         Went to Italy, really worked on the Man Diet while there.
–         Left for the trip with no money, site not 'killing it' quite yet.
–         Man Diet took off, came home from the trip with 10x what I had when I left and a solid business.
–         Went to Argentina, business continues to grow.
–         Buy house, move from Vancouver to Calgary, still learning, still growing the business.
–         Change a few things with the business, grows more, more work, loving it, excited about where it's headed.
–         Buy DotcomSecretsBook on Amazon, learn a TON.
–         Implement.
–         Seeing growth from what I learned there.
Wish I'd heard about it earlier.
I left out a lot.
Africa, road trip down south with Teddy (all of which done while working, writing, documenting, and growing the business).
That 'big move', from focusing on a customer to simply writing to myself, solving my own problems, issues, and obstacles, is something that Russell talks about in his book.
I may have to change that or at least evolve that focus in the future, but it was honestly when my business took off.
It was so simple, and it went against every marketing technique anyone's ever mentioned to me, but I'd tried it their way for 4 years and the business just wasn't doing well.
When I wrote for me and as a result, for guys like me, hustlers, ambitious guys, MEN, fellas who want to dare mightily and live adventurously, I started attracting action takers because I was creating content that resonates and actually HELPS them accomplish what they want to accomplish…
… And it was easy to figure out what to create because they're all answers to questions of my own.
Again, I've spent well over $20k on courses and such, things that should help me grow my business, but Dotcom Secrets laid it out better than anything in that 20k, and it does it for free.
Pick up The Best Business Book I've Read for FREE
Learning to build a business online does a few things:
1. It helps you serve people closely, not behind the layers of a corporation (nothing wrong with that, but you get a closer connection to those you serve).
2. It gives you freedom to control your fate.
It won't be the mistakes of others that you're punished for.
You control your fate when you run your own business.
Dotcom Secrets can help guide you through the venture so you do the right things at the right times and in the right process.
And for those of you who are already online, I learned a ton from this book and I already have a business that's growing 50% annually.
This book will only increase that.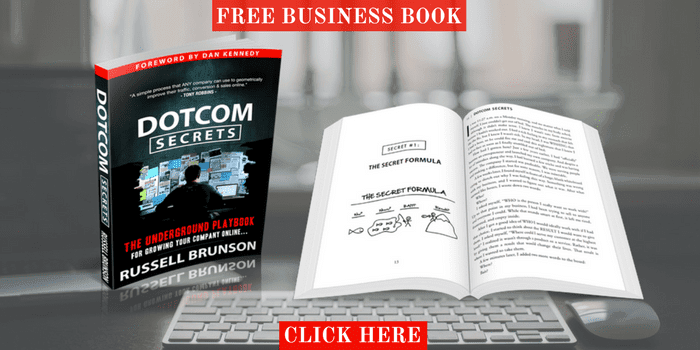 About The Author
Chad Howse: Chad's mission is to get you in the arena, 'marred by the dust and sweat and blood', to help you set and achieve audacious goals in the face of fear, and not only build your ideal body, but the life you were meant to live.
You can contact him at –
http://www.ChadHowseFitness.com/
https://www.Facebook.com/ChadHowseFitness
https://www.YouTube.com/ChadHowseFitness