Struggling to get it up in the morning?
Facing the embarrassment and the stress that comes with not being able to get your soldier to stand at attention when you're about to get frisky with your lady?
The market for libido boosters us growing rapidly, and men of younger and younger ages are getting hooked on those expensive and often unhealthy blue pills.
Are there natural, scientifically proven ways to increase blood-flow to that region (which is all that those blue pills do)?
On top of that, are there natural, scientifically proven ways to increase sex drive, independent of improving sexual function?
Sometimes it's not merely a matter of not getting enough blood-flow, but of not having enough drive.
In this article you'll learn about the perfect, natural, proven libido-boosting cocktail that includes a primary ingredient in those blue pills, which made the makers of Viagra furious when they found out they couldn't patten this ingredient because it was found to be in high levels in a single herb found in nature.
You'll also learn how much you need of each to be effective, and where to get them at a very inexpensive price.
Listen, just because you're having trouble getting it up or your drive is low, it doesn't mean that this has to be your plight in life, there's A LOT you can do, and a lot you can do naturally, starting with these 3 potent herbs and vegetables.
The 3 Most Potent Libido Boosters Nature Can Provide
Beet Root: the Best Nitric Oxide Booster
Beets are the blood flow superfood. Packed with nitratines that help increase blood flow – which is vital for athletic and sexual performance.
The more you consume nitrates, the more nitric oxide is released into your blood, which not only helps with erectile dysfunction, but will increase muscle pumps and aid in workout recovery.
How often do you eat beets?
Rarely, I presume. And beet root?
I'm guessing not at all.
On top of that, powder form gets these benefits to your bloodstream fast and effectively. Get 1 gram a day.
Maca: Nature's Most Potent Libido Booster
Maca has a long and rich history in ancient Peru where it was used by the Incan's to improve libido, mood, and well-being.
Since being re-discovered by German scientists studying 'lost Incan herbs', it's been more widely studied and shown to:
Improve sexual function and boost libido in men

Improves sperm production and health

Improves joint health

Reduces feelings of anxiety, improves sense of well being, and may reduce depression
With sexual function and libido being so closely linked to testosterone, and low testosterone often lowering a man's libido and sex drive, you'd think that with its ability to increase libido and sexual function, maca would also help improve testosterone in men, but it doesn't.
It's often marketed as a magical testosterone booster because you can feel it working, but that's not what it does.
It does, however, provide huge boost in libido, and is nature's most potent libido booster. It's also not something you're going to consume very often in your diet (if ever).
Take it in powder form of 1.5 grams a day.
Horny Goat Weed
I was very skeptical about Horny Goat Weed simply because of its name. It sounds like a cheap marketing ploy designed to make money. Then, however, I dug into the research and found that Horny Goat Weed has not only been used for thousands of years, but it also has a very important ingredient that helps men both improve their testosterone levels, but also acts as a pro-erectile agent much in the same way that viagra does, albeit without any synthetic ingredients.
That ingredient is called icariin. Icariin inhibits the PDE-5 enzyme, which is also what viagra and cialis do with synthetic agents, while also increasing nitric oxide, which helps improve blood flow to that region.
One study on horny goat weed was used to overturn a patent made by the Viagra company stating that their formula was the only source of icariin in the world.
On top if this, other studies have shown that icariin has mimetic properties, and is able to mimic testosterone in the testes.
The benefits of Horny Goat Weed, however, don't stop with libido and testosterone. Goat Weed is also a very healthy sounds of  37 different flavonoids while also being a very strong antioxidant.
It's rare, and it doesn't taste good, so take in powder form at 200 mg.
Want ALL of These Powerful Libido Boosters in One Source + Your Daily Greens + Testosterone Boosters That Will Also Help With Libido?
Get the FIRST and ONLY Greens supplement formulated for men: MAN GREENS
In Man Greens you get your full amount of each of these ingredients, plus herbs and other greens that act as multivitamins giving you more energy, making you healthier, and providing a boost in testosterone.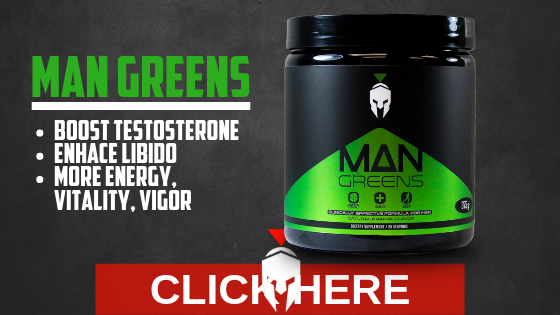 Studies
Horny Goat Weed
Zhang ZB, Yang QT. The testosterone mimetic properties of icariin. Asian J Androl. (2006)
Maca