Every year I choose my books on a whim. I read biographies, business books, self-help books, the odd fiction book, books by and about the stoics, books on history, and all help me improve and at least become a little wiser. There is, however, no rhyme or reason to what I choose at a given time.
Or, there wasn't.
This year I decided to have a strategy to how I choose books. The strategy is simple, they're both studying how to improve, but from different angles.
I need to get a hell of a lot better at selling and marketing and copywriting and so forth, so I have one stack of books dedicated solely to improving that skill.
The stack next to the marketing books are biographies and autobiographies of winners. There's a book on Trump, a book on Shackleton and Einstein and Arnold. Columbus' journals are in that stack, Sam Walton's autobiography is there. There's a book on Andrew Carnegie, Napoleon, and Machiavelli.
There's the skill I need to develop, and the people I need to learn from.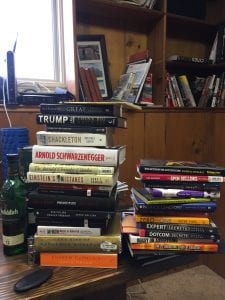 In his book Think and Grow Rich, Napoleon Hill writes about having a mastermind group. Now, if you're in the online world, there are mastermind groups you pay to join (I'm in one). You're coached by someone doing what you want to do, but you also get to be around guys who are getting after it, winning in your line of work. They're awesome. When I'm in one, I grow, I'm pushed to do what I'm uncomfortable doing (which is necessary for growth), and when I'm not I slide back into horrible habits of comfort.
Hill's masterminds include books, people from history that are who he wants to become, or have achieved the level of success that he wants to achieve. He studies great men, understands them intimately, and in his mind's eye, seeks advice from them.
The stack of guys I want to learn from may not have achieved what I want to achieve, but they've achieved things on the kind of scale that I think all men want to rise to. They need to be studied. Their strengths, weaknesses, and how they deal with chaos, needs to be understood.
We need to know their ambition, their work ethic, and we need to understand how their worldview shaped their success.
Every one of them that I've read about thus far (I'm currently reading a book about Alexander the Great), wasn't bound by the limitations of the mind that the mediocre cling to.
Nothing is impossible to them, and thus, nothing is impossible.
Choose your books however you want, but I think there's value in this strategy, in getting better at a skill while also studying men who've accomplished the impossible.
When you understand who you have to become, but also the skills you have to master, it's only time that will stand between you and the life you want to lead and the man you're set on becoming.
The Best Biographies I've Read Thus Far:
The Rise of Theodore Roosevelt
The Rise of Napoleon Bonaparte 
What Do You Suggest I Add to Either List?
What Book Are You Reading?