I remember having this thought…
This is freedom.
I can't even remember exactly where I was, and I may have been a tad lost, but I couldn't care less.
I was in Tuscany, driving a rented Fiat 500, looking for a small town called Sorano that's nestled in the hills in the south of the province between Florence and Rome but closer to the coast.
I may have actually just come from the coast, from a vacation property that a family I rented an Airbnb from let me use for free for as long as I wanted.
That was an experience.
The vacation house was on the island of Elba, where Napoleon was exiled. I walked throughout his house, worked on the beach next to a pal tree with an old fashioned in my hand.
Damn I want to go back there.
So the freedom…
I was lost, but not stressed nor worried. A song by Tim McGraw was playing, I think it was That's Why God Made Mexico, something light like that, and I pulled over to the side of the road, got out of the car, and took it all in.
Ever since I was a kid (my Mom's from Italy) I'd dreamed of coming to Italy.
The furthest we got as a family growing up was Newfoundland, where my old man's from, and this was my first trip to another continent (actually, false, I'd been to Switzerland for a brief stay for a pal's wedding, great time there too, though I missed the plane home because I had too many beers the night before).
In total I was in Italy for 3 months, with a couple weeks in Scotland as well.
The first month was spent pinching pennies in Rome.
Then, business took off, and it wasn't that I spent frivolously (I didn't), but I was free from that voice in the back of my mind, the stress the worry, the uncertainty that comes with not having enough.
That's when the real trip began.
Years later, business is still growing as fast.
It took me a while to get over that hump, though.
Then, as I've mentioned before, I bought a book (Dotcom Secrets) a couple weeks ago and read it in two days.
Within that book were new lessons I'd yet to learn, and old lessons that took me years to learn, delaying the growth of my business that would eventually take place, but had I picked up this book earlier, I'd be further along than I am now.
It's that good of a book.
Now, if this description of freedom – one I've replicated over and over again in Canada, the States, Africa, and South America – appeals to you, or if you simply want to grow your business, or add some supplemental income, take action on picking up the book while it's free.
Dotcom Secrets by Russell Brunson (Free Copy)
Now I want to go back to Italy.
Awesome.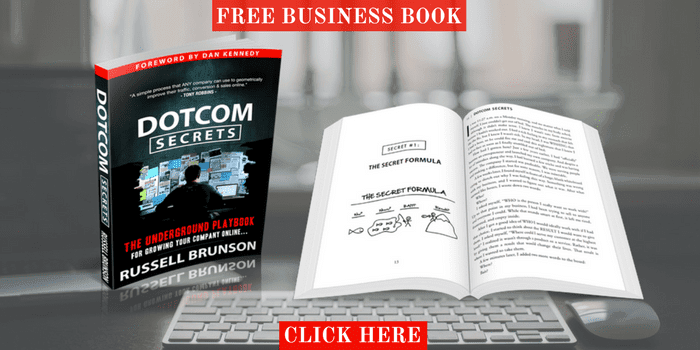 About The Author
Chad Howse: Chad's mission is to get you in the arena, 'marred by the dust and sweat and blood', to help you set and achieve audacious goals in the face of fear, and not only build your ideal body, but the life you were meant to live.
You can contact him at –
http://www.ChadHowseFitness.com/
https://www.Facebook.com/ChadHowseFitness
https://www.YouTube.com/ChadHowseFitness