Despite what their name may suggest, micronutrients play a major role in your testosterone health.
But let's be honest…
Sometimes it's challenging to keep up with all of the micronutrients you need in order to make the most out of what makes you a man.
Which is one of the reasons I created The Barbarian Manhood Multi.
It's got all of your essential vitamins to boost testosterone packed into one daily punch.
What are these essential vitamins to boost testosterone?
Let's take a look.
Selenium
Most people I ask don't know what selenium is…
But you need to know that it's a powerful testosterone booster.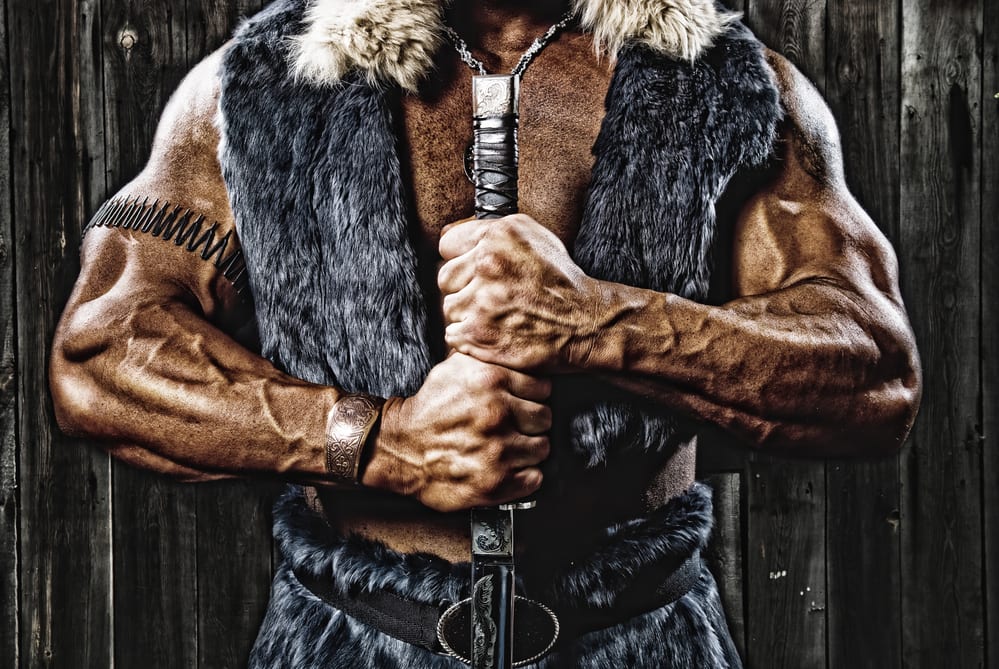 One study, published in the U.S. National Library of Medicine, shows selenium is linked to improved sperm counts and increased testosterone levels…
In this study, 50 men between the ages of 25-55 had their serum levels of selenium tested while also having their serum levels of testosterone tested…
The results were obvious…
There was a direct correlation…
Men with higher selenium levels had higher testosterone, while those with lower selenium had lower testosterone.
No disputes men…
You need selenium.
Zinc
According to a recent report from Oregon State University over 2 billion people are deficient in Zinc around the world…
That's a whole lot of people…
And research has shown that low zinc means low testosterone.
Period.
One study, involving 10 male wrestlers over a 4-week span, measured testosterone levels before and after zinc supplementation.
It's no surprise that their testosterone levels peaked post-zinc intake…
But the question you have to ask yourself is are you zinc deficient?
Because if you haven't been keeping track of your zinc intake, you're probably missing out on one of the most essential vitamins to boost testosterone.
Vitamin A and Vitamin B Complex
Vitamin A and vitamin B complex are important for every man because it plays a little bit of defense for you…
Against your estrogen levels…
Now, every man has some estrogen in him…
But if those numbers get too high, you'll be looking at excess body fat in all the wrong places.
According to a report published in The Journal of the Society for Reproduction and Fertility when you're deficient in vitamin A, estrogen synthesis skyrockets…
The same also rings true for vitamin B deficiencies.
So vitamin A and vitamin B complex are essential vitamins to boost testosterone in a bit of a backwards way…
They play defense for you against your estrogen levels so that your testosterone levels will be higher.
But you know how the old saying still ring true, here…
The best offense is a good defense.
Vitamin C
Just like in hockey, two defenders won't make much of a difference if you don't have a goalie…
So there's no point in vitamin A or vitamin B playing defense without another guy in the net…
Well, the good news is that vitamin C is that guy.
Studies have shown that vitamin C is a powerful antioxidant that fights against elevated cortisol levels and shrinks oxidative damage that could lower testosterone levels.
See, when cortisol levels go up, testosterone levels go down…
Which makes vitamin C one of the essential vitamins to boost testosterone in any man's supplementation.
Plenty of vitamin C a day will keep the cortisol away.
Vitamin D3
If you didn't know already, there are two types of testosterone in your bloodstream…
Free testosterone and bound testosterone…
And unfortunately, most of it's bound, meaning that it doesn't provoke any advantage to the qualities that make you a man.
But vitamin D cuts the ropes off of what's binding your testosterone.
This study, published in the medical journal, Osteoporosis International shows Vitamin D supplementation increases testosterone levels by "freeing up" bound testosterone.
When this testosterone is freed up, it's then usable to help you build muscle better, grow a Viking-esque beard, have better sex, think more clearly, and the list goes on.
Calcium
Calcium is often promoted to strengthen your bones and your teeth…
Because, well, it does…
But calcium has also been shown to boost testosterone levels in men.
A recent study published in the Journal of Biological Trace Element Research, found that calcium raised the free testosterone levels of active men by 18% compared to a placebo group.
And even though researchers aren't sure exactly why calcium boosts testosterone, they suspect that calcium improves signaling between cells and hormones, and as a result boosts testosterone production.
Magnesium
Magnesium is similar to zinc in that if you're deficient in your magnesium intake, you'll reap some poor consequences for your testosterone health.
One study published in the U.S. National Library of Medicine shows 70% of adults in the United States eat below the recommended amount of magnesium…
With up to 19% eating less than half of the daily need for magnesium…
This is partly due to the fact that magnesium evaporates from the body through sweat.
A study published in the U.S. National Library of Medicine shows that roughly one gram of magnesium a day is enough to boost testosterone levels by 24% when combined with intense exercise…
Another study simply drew a direct correlation between magnesium intake and testosterone levels in older men, making magnesium one of the essential vitamins to boost testosterone across the board.
Your Next Step
Men, look at this list…
There are a lot of essential vitamins to boost testosterone.
And trying to manage each one of them is a pain in the you-know-what.
And that's why I created the Barbarian Manhood Multi.
It's a convenient and effective testosterone boosting multivitamin that contains all of the essential vitamins to boost testosterone…
With Barbarian you won't have to worry about missing out on any of the essentials you need.
So grab the Barbarian Manhood Multi to save yourself some money, some time, and a lot of worry… And boost your testosterone while you're at it.
Until next time, stay manly!