This is an excerpt from my latest book…
Cheat. It's always good to cheat if you can. Cheating in my mind is simply using things that help you either focus or manage your tasks better.
The following are things I use now. I've used a lot of little tools in my time, trying to get more done, trying to find a way to maintain focus for longer periods of deep work sessions, and attempting to keep track of what, specifically, I should be focusing on and what I shouldn't.
1. OneFocus (mac app)
This is a great tool for anyone who does any kind of computer work offline. The big one, of course, being writing.
OneFocus is an app that gives you the ability to shut off access to whatever programs you want on your computer. When I'm working, for example, my ability to access everything but my Word doc is denied. You add a timer to it, which is important (I'll explain why in the next tool).
2. Stopwatch
Focus and discipline needs to be forced and trained to become stronger. Don't just work, time your work on a single thing. Timing your work sessions forces you to focus for a prescribed time. You don't stop when your energy runs out or when you run out of ideas or when the 'muse' leaves you. You stop when the timer runs out.
Studies suggest that our attention span for deep work runs around 90-120 minutes. So you have a maximum of 120 minutes to focus deeply on a given task.
You won't have that 120 minutes in your tank when you begin your work on discipline, but it's something you can build up to with the help of a timer. Increase your work sessions by 10 minutes every week. Start with 60-minute work sessions. That may even be a stretch, but you'll work your way up to it.
One of the best features of onefocus is that it includes a timer. It tells me when my writing session is done, I don't tell it.
3. Trello
Trello is a task manager of sorts. You can create columns, then to-do's or tasks within those columns. You can manually move one task through your funnel of columns, which is what makes it the best task manager I've come across.
How I set my columns up:
big projects – weekly projects – to do today – doing – done
You can see how projects move through that flow. They start at big or weekly projects – like a book or a program in big, articles and emails in weekly – then move to 'to do today', then doing, then done.
It's a visual way of getting all of your work done. You should also only put 1-2 things in the 'to do today' column, and never more than one thing in the doing column.
I'm relatively new to using this. It's only been a few months, but it's already made a big difference. I'm sold.
4. Evernote
Evernote is a great note-taking and project planning tool. You can scan things with your camera phone using the app. It's also a great note-taking platform for the books you read.
Taking pictures of articles or quotes or ideas you have while walking the streets or in the mountains, it becomes a visual journal that isn't so much about creating discipline, but finding focus.
5. A Journal
Journals bring clarity. Often times I don't know what I'm thinking unless I take the time to work my thoughts out in a journal. They also give us a period to reflect, to find self-awareness and to call ourselves out on how we're not being disciplined.
I keep two journals and I recommend keeping at least more than one.
One journal is for your story. It's to write down thoughts and ideas and record your life. This journal helps you find clarity. You write you goals and dreams and processes in this journal.
The second journal is for work. It's to write down goals for the week, tasks, or even just to take notes on books you're reading.
One is for your story, the other is for your daily life. Splitting them up allows you to find things in your journal much faster because they're split into two topics. It also helps you really focus on the two aspects of your journaling without messing one of them up.
6. Big headphones
This is a new but incredibly powerful addition to my writing. I sit down at my desk, put the noise-cancelling headphones on so I can't hear anything but the sounds its playing, choose a soothing, studying or working playlist that doesn't have any words, and begin working.
I can't explain how powerful this has been for my ability to focus on a single thing, whatever I'm writing. If writing or programming or any skill where you should be focusing on one thing and noise can be a distraction – carpentry, art, etc… – try this.
What are your tools?
These tools have worked wonderfully for me. They may do the same for your, but it's important to have tools of your own, little 'cheats' that help you get better at what you're aiming to perfect.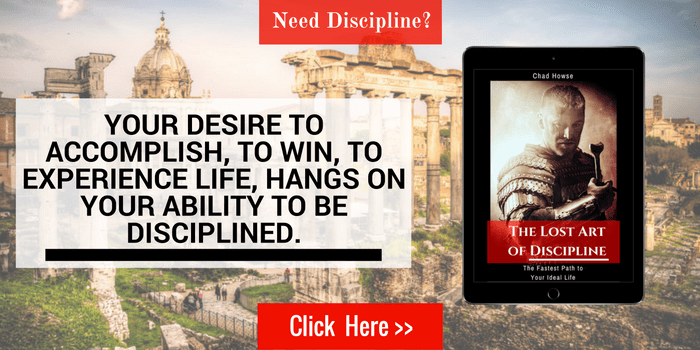 About The Author
Chad Howse: Chad's mission is to get you in the arena, 'marred by the dust and sweat and blood', to help you set and achieve audacious goals in the face of fear, and not only build your ideal body, but the life you were meant to live.
You can contact him at –
http://www.ChadHowseFitness.com/
https://www.Facebook.com/ChadHowseFitness
https://www.YouTube.com/ChadHowseFitness